Updated by
Matthew
on Sunday, August 23rd, 2015 at 12:39 am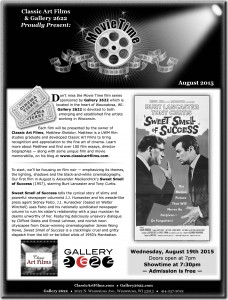 Classic Art Films will be hosting its first 'Movie Time' showing at Gallery 2622 in Wauwatosa, WI on Wednesday, August 19th, 2015.
To start, we'll be focusing on film noir — emphasizing its themes, the lighting, shadows and the black-and-white cinematography. Our film in August  is Alexander Mackendrick's Sweet Smell of Success (1957), starring Burt Lancaster and Tony Curtis.
Sweet Smell of Success tells the cynical story of slimy and powerful newspaper columnist J.J. Hunsecker and his weasle-like press agent Sidney Falco. J.J. Hunsecker (based on Walter Winchell) uses Falco and his nationally syndicated newspaper column to ruin his sister's relationship with a jazz musician he deems unworthy of her. Featuring deliciously unsavory dialogue by Clifford Odets and Ernest Lehman, and noirish neon cityscapes from Oscar-winning cinematographer James Wong Howe, Sweet Smell of Success is a cracklingly cruel and gritty dispatch from the kill-or-be-killed wilds of 1950's Manhattan.
Admission is free to this community event. Doors open at 7pm on Wednesday, August 19th and Showtime is at 7:30pm. We hope you can join us for a great show!
You can also view or print the flyer here.
If you would like to receive our monthly newsletter notifying you of upcoming events, please visit our Newsletter Registration page.
[socialWarfare]