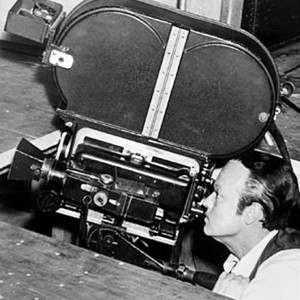 Orson Welles
Orson Welles was a well-regarded performer in radio and film, a celebrated Shakespearean stage actor, an accomplished magician and one of the most influential filmmakers of all time. Welles found national and international fame as the director and narrator of a 1938 radio adaptation of H. G. Wells' novel The War of the Worlds. It reportedly caused widespread panic when listeners thought that an invasion by extraterrestrial beings was occurring, rocketing Welles to notoriety. Welles's growing fame drew sudden Hollywood offers, while RKO Radio Pictures President George Schaefer offered Welles complete artistic control to an untried director. Welles agreed to the offer and conceived a screenplay titled Citizen Kane with screenwriter Herman J. Mankiewicz, where Welles would direct, co-write, produce, and star as the lead. Mankiewicz based the original outline on an exposé of the life of William Randolph Hearst, whom he knew socially and came to hate. When hearing of this Hearst's media outlets immediately boycotted the film, exerting enormous pressure and intimidation on the Hollywood film community. At one point they even offered to purchase the film, fully intending to burn the negative and existing prints, but RKO declined, and the film was given a limited release. Citizen Kane (1941) was well-received critically, as it garnered nine Academy Award nominations, but won only for Best Original Screenplay, shared by Mankiewicz and Welles. Although it was largely ignored at the Academy Awards, Citizen Kane is now hailed as one of the greatest films ever made. Andrew Sarris called it "the work that influenced the cinema more profoundly than any American film since The Birth of a Nation (1915)" and during the 1950s, the film came to be seen by young French film critics such as François Truffaut as exemplifying the auteur theory, in which the director is the 'author' of a film. Welles followed up Citizen Kane with such films as The Magnificent Ambersons (1942), The Stranger (1946), The Lady from Shanghai (1948), Othello (1952), The Complete Mr. Arkadin (1955), Touch of Evil (1958), The Trial (1962) and Chimes at Midnight (1965). Unfortunately Welles would forever struggle for creative control from major studios, while most all his films were either heavily edited or remained unreleased. For the rest of his life, Welles permanently remained an outsider to the studio system directing only 13 full-length films in his entire career. Even so, Welles distinctive directorial style presented revolutionary cinematic techniques that would forever change the language of cinema, including layered and nonlinear narrative forms, innovative uses of lighting such as chiaroscuro, unusual camera angles, sound techniques borrowed from radio, deep focus shots, long takes, and the use of innovative editing effects. Welles has been praised as a major creative force and as 'the ultimate auteur,' while in 2002, Welles was voted as the greatest film director of all time in two British Film Institute polls among directors and critics.
---
---
Orson Welles
Orson Welles Featured Films

Availability of

Orson Welles

movie memorabilia for sale changes daily.
The products and pricing shown below are current as of:

Saturday, Mar 24, 2018
Orson Welles
---
Products previously bought from this site:
---
orson welles man in the shadows rare original 1958 movie lobby card 11 x 14, orson welles in focus texts and contexts by james naremore new, touch of evil 1958 used vhs charlton heston janet leigh orson welles, citizen kane the 50th anniversary orson welles vhs sealed new 1991, its all true dvd 2004 full screen collection rare orson welles , orson welles the shadow message from the hill murder in wax lp green viny, its all true dvd 2004 george orson welles orson welles richard wilson, orson welles hollywood icon set of 5 mint stamps, the magnificent ambersons dvd orson welles director , jane eyre dvd cinema classics collection orson welles joan fontaine new, vhs movie lot vintage 15 titles new sealed orson welles humphrey bogart liz tayl, crack in the mirror 1960 original 11x14 movie lobby card set of 6 orson welles, orson welles articles reviews film quarterly magazine wpix fall 1967, nov 1972 tv guidefrancesca jameslassieorson wellesarnold rothhugh obrian, orson welles charles laughton candid set the magnificent ambersons estate photo, the magnificent ambersons dvd 2002 orson welless original screenplay new, orson welles lp war of the worlds living sound sy 5251 vgex, original orson welles movie poster orson welles f for fake us 1 sheet, the shadow golden age cassette tape complete radio broadcasts orson welles reads, dvd orson welles in citizen kane remastered picture amp; sound 2 disc set xlnt, vips half sheet movie poster 22x28 elizabeth taylor richard burton orson welles, lp orson welles leonard bernstein blitzstein airborne sympho 12 vinyl nm, citizen kane 2 disc special edition classic dvd orson welles academy awd 41 mint, citizen kane 1941 orson welles bluray import brand new free ship, me and orson welles dvd 2011 zac efron christian mckay claire danes new, orson welles dorothy comingore original 8x10 camera negative citizen kane puzzle, orson welles original 8x10 camera negative portrait citizen kane star, david amp; goliath 1961 amp; the stranger 1946vgc dbl feature dvdorson welles, orson welles original radio broadcasts lp 503, orson welles 1942 film score the magnificent ambersons bernard herrmann cd apo, 1965 actor orson welles amp; bull fighter luis miguel dominguin press photo, 1972 actors orson welles mary wickes con knotts lee remick press photo, vintage orson welles quite handsome 40s publicity portrait, 1978 actor director producer orson welles press photo, ferry to hong kong curd jrgens orson welles 1959 danish movie magazine program, this is orson welles by peter bogdanovich excellent condition, james howard complete films of orson welles 1991 first edition, orson welles in david and goliath vhs tape, motion picture 1976 chermarilyn monroeorson welles, us 3186o addr pcs artcraft fdc 1940 citizen kane orson welles, orson welles cittzen kane 50th anniversary box set vhs limited collectors ed, ex laserdisc the third man 1949 ivcl10001 wobi from japan orson welles, orson welles portrait original watercolor painting one of a kind citizen kane, orson welles clippings, 1963 rogue magazine aphrodisiacsget richorson welleschere abbyfritz leiber, citizen kane dvd 2001 2disc set orson welles joseph cotten everett sloan, wellesorsoncomplete mr arkadin dvd new, crack in the mirror 1960 original lobby card orson welles, black magic 1949 original lobby card orson welles, necromancy orig 1sh movie poster 72 orson welles horror skeleton in coffins, my lunches with orson welles book peter biskind henry jaglom, 1949 magazine ad for movie black magic starring orson welles cagliostro story, 1964 press photo orson welles projects his personality in touch of evil, 1977 press photo orson welles narrates tut the boy king on nbctv mjp40716, 1945tomorrow is forever lobby card starring claudette colbertorson welles, laserdisc i citizen kane orson welles joseph cotten dorothy comingore se, 1985 photo orson welles host actor celebrity nbc tv mystery scene crime 7x9, citizen kane dvd 2001 2disc set orson welles, orson welles the magnificent ambersons classic series vhs, despite system orson welles versus hollywood studios by clinton heylin vg, jane eyre vhs tape vcr 1993 orson welles joan fontaine, making movies with orson welles by gary graver mint condition, orson welles joseph mcbride softcover 1st edition 1972 new old stock, eric ambler signed journey into fear hc 1st 1940 orson welles film joseph cotten, 35mm film strip from necromancy 1972 orson welles rare horror cult, orson welles citizen kane the criterion collection laserdisc rare cutout, marlene dietrich orson welles frank lloyd 1959 vintage serbia magazine yugoslavi, 2014 panini golden age mini mono brand blue back 49 orson welles, 2014 panini golden age mini hindu brown back 49 orson welles, citizen welles biography of orson welles by brady frank paperback book the, orson welles in citizen kane the 50th anniversary sealed new vhs 1991 cc, rikkitikkitavi vhs animated director chuck jones cast orson welles, necromancy horror code red bluray new orson welles rare pamela franklin, vips 1963 mlc01 orson welles elsa martinelli, citizen kane orson welles special edition sealed laserdisc, its all true dvd 2004 full screen collection rare orson welles brand new , the third man orson welles pop art poster 2 signed ltded print by john lathrop, the third man orson welles pop art poster 3 signed ltded print by john lathrop, the third man orson welles pop art poster 1 signed ltded print by john lathrop, david and goliath vintage peplum movie film lobby card orson welles ivica pajer, lobby card lot x 4 treasure island 1972 orson welles kim burfieldpiratescs, the black rose tyrone power orson welles original 1950 exhibitors campaign sheet, a man for all seasons pressbook wendy hiller orson welles plus poster, us 3186o mnh 1940 citizen kane orson welles , rko colthe stranger vhs 1992 orson welles loretta young edward g robinson, 1941orson welles arrives at opening of movie citizen kane photo, orson welles i know what it is to be young cd single maxi import mint, films in review january 1988 cleopatra orson welles claude berri princess bride, orson welles by andre bazin excellent condition, othello orson welles 1951 the tragedy of othello the moor of venice us film, this is orson welles by peter bogdonavich hardcover, macbeth rare uncut orson welles drama vhs 1948 oop htf william shakespeare, the stranger film noir thriller vhs 1946 orson welles kartes video clamshell, the stranger 1946 orson welles 2 disc bluray dvd bluray new, la fayette orson welles jack hawkins very rare original belgian movie poster, tepepa orson welles very rare original belgian movie poster, orson welles of falstaff japan bluray, third man orson welles joseph cotten1948 french movie poster
Other Films and Movie Memorabilia Visitors Were Searching For...
---
hollywood film black camera behind, orson welles on set,