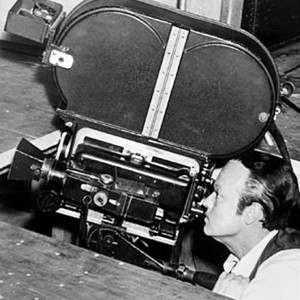 Orson Welles
Orson Welles was a well-regarded performer in radio and film, a celebrated Shakespearean stage actor, an accomplished magician and one of the most influential filmmakers of all time. Welles found national and international fame as the director and narrator of a 1938 radio adaptation of H. G. Wells' novel The War of the Worlds. It reportedly caused widespread panic when listeners thought that an invasion by extraterrestrial beings was occurring, rocketing Welles to notoriety. Welles's growing fame drew sudden Hollywood offers, while RKO Radio Pictures President George Schaefer offered Welles complete artistic control to an untried director. Welles agreed to the offer and conceived a screenplay titled Citizen Kane with screenwriter Herman J. Mankiewicz, where Welles would direct, co-write, produce, and star as the lead. Mankiewicz based the original outline on an exposé of the life of William Randolph Hearst, whom he knew socially and came to hate. When hearing of this Hearst's media outlets immediately boycotted the film, exerting enormous pressure and intimidation on the Hollywood film community. At one point they even offered to purchase the film, fully intending to burn the negative and existing prints, but RKO declined, and the film was given a limited release. Citizen Kane (1941) was well-received critically, as it garnered nine Academy Award nominations, but won only for Best Original Screenplay, shared by Mankiewicz and Welles. Although it was largely ignored at the Academy Awards, Citizen Kane is now hailed as one of the greatest films ever made. Andrew Sarris called it "the work that influenced the cinema more profoundly than any American film since The Birth of a Nation (1915)" and during the 1950s, the film came to be seen by young French film critics such as François Truffaut as exemplifying the auteur theory, in which the director is the 'author' of a film. Welles followed up Citizen Kane with such films as The Magnificent Ambersons (1942), The Stranger (1946), The Lady from Shanghai (1948), Othello (1952), The Complete Mr. Arkadin (1955), Touch of Evil (1958), The Trial (1962) and Chimes at Midnight (1965). Unfortunately Welles would forever struggle for creative control from major studios, while most all his films were either heavily edited or remained unreleased. For the rest of his life, Welles permanently remained an outsider to the studio system directing only 13 full-length films in his entire career. Even so, Welles distinctive directorial style presented revolutionary cinematic techniques that would forever change the language of cinema, including layered and nonlinear narrative forms, innovative uses of lighting such as chiaroscuro, unusual camera angles, sound techniques borrowed from radio, deep focus shots, long takes, and the use of innovative editing effects. Welles has been praised as a major creative force and as 'the ultimate auteur,' while in 2002, Welles was voted as the greatest film director of all time in two British Film Institute polls among directors and critics.
---
---
Orson Welles
Orson Welles Featured Films

Availability of

Orson Welles

movie memorabilia for sale changes daily.
The products and pricing shown below are current as of:

Saturday, Dec 16, 2017
Orson Welles
---
Products previously bought from this site:
---
orson welles war of the worlds radio broadcast 2lp 69 evolution 4001 vg, complete mr arkadin criterion dvd 2006 3disc set 3 versions orson welles, orson welles man in the shadows rare original 1958 movie lobby card 11 x 14, citizen kane 1941 orson welles joseph cotten agnes moorehead rare oop vhs, joseph cotten ray collins the magnificent ambersons orson welles estate photo, roddy mcdowell john dierkes original macbeth freulich stamp orson welles photo, orson welles charles vidor vintage candid the lady from shanghai columbia photo, orson welles jeff chandler jack arnold original candid the man in shadow photo, 3186o 1999 33c 1940s orson welles citizen kane charles foster xanadu rosebud, bakersfield californian newspaper tv week 1972 rare yul brynner orson welles, used gd orson welles cinema one 19 by joseph mcbride, old time radio shows laughter on the air collector series orson welles , the third man starring orson welles original 8x10 movie still photo , orson welles amp; rita hayworth candid dressing room photo, director actor amp; producer orson welles holding his pipe photo, my lunches with orson conversations between henry jaglom and orson welles, ostle troisieme homme orson welles amp; la musiquejapan cd ltded c15, someone to love dvd 2006neworson wellessally kellerman sealed, orson welles citizen kane 50th anniversary limited edition box set vhs book mint, new orson welles mr arkadin confidential dvd3 disc set criterion collection, orson welles volume 3 oneman bandexlibrary, the lady from shanghai vhs 1992 new factory sealed orson welles rita hayworth, the tartarsdvdr 2012victor mature orson welles llana orfei bella cortez , american movie classics march 1993 citizen kane orson welles, american cinematographer magazine april 1975 orson welles as citizen kane, 1980 orson welles photo paul masson no wine before its time vintage print ad, suspense radio broadcasts orson welles agnes moorehead lp sealed, this is orson welles by peter bogdanovich and orson welles 1992 hardcover, audio book sale miscellaneous 18 pick what you want to save, orson welles hollywood icon set of 5 mint stamps, orson welles citizen kane photo, citizen kane rosebud tshirt orson welles classic hollywood , orson welles over 20 clippings , citizen kane dvd orson welles two disc special edition classic everett sloane , the war of the worlds from h g wells to orson welles jeff wayne steven, playboy magazine december 1983 joan collins terry nihen orson welles excellent, orson welles joseph cotton and everett sloane in the movie citizen kane photo, citizen kane orson welles orig key book photo 1940, reiguerafranciscoorson welles don quixote dvd new, new the stranger orson welles vhs 1946 rko classic drama loretta young robinson, vg disc citizen kane w orson welles laserdisc movie rko classic collection, a man for all seasons dvd 2007 special edition robert shaw orson welles 1966, me amp; orson welles dvd, orson welles movie star actor director vintage photo, 1940s vintage original camera negative of orson orsen welles wells unpublished , 45 orson welles wray charles singers i know what it is to be young max records, bernard hermann citizen kane argentine promo ost lp insert orson welles, orson welles its all true orson welless panamerican odyssey, david amp; goliath dvd 2004 orson welles drama pg, comedy amp; spoken word3 mixamp;match music cds $399 flat ship, the titanic special edition vhs by orson welles, 1946 the stranger orson welles movie release edward g robinson loretta young ad, orson welles vinyl record vintage lp 12 the begatting of the president, apr1974 tv guiderichard roundtreeshaftorson wellesandy griffithpeter falk, the lady from shanghai 11 x 14 title lobby card tlc rita hayworth orson welles, dracula starring orson welles cd adventures old time radio halloween vampires, the cradle will rock unproduced reproduction script orson welles 1984 rare , f for fake criterion blu ray orson welles, vhs compulsion orson welles d stockwell diane varsi martin milner eg marshall, the stranger dvd 2000 leading role orson welles edward g robinson, amc american movie classics magazine january 1996 john wayne orson welles, joan fontaine orson welles vintage 1943 original jane eyre bronte mastiff photo, walter hampden ethan frome owen davis orson welles ad 1938 milwaukee program, orson welles lp war of the worlds living sound sy 5251 vgex, radio spirits les miserables orson welles 3 cds7 programs, dvd david amp; goliath starring orson welles 2004 slim case, orson welles no man is an island lp decca records dl 9060, ca710 1950s 2nd gen restrike photo rita hayworth orson welles cleavage busty, david and goliath 1961 original 41x81 3 sheet movie poster orson welles
Other Films and Movie Memorabilia Visitors Were Searching For...
---
hollywood film black camera behind, orson welles on set,