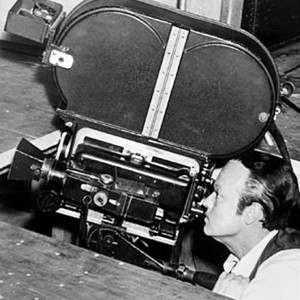 Orson Welles
Orson Welles was a well-regarded performer in radio and film, a celebrated Shakespearean stage actor, an accomplished magician and one of the most influential filmmakers of all time. Welles found national and international fame as the director and narrator of a 1938 radio adaptation of H. G. Wells' novel The War of the Worlds. It reportedly caused widespread panic when listeners thought that an invasion by extraterrestrial beings was occurring, rocketing Welles to notoriety. Welles's growing fame drew sudden Hollywood offers, while RKO Radio Pictures President George Schaefer offered Welles complete artistic control to an untried director. Welles agreed to the offer and conceived a screenplay titled Citizen Kane with screenwriter Herman J. Mankiewicz, where Welles would direct, co-write, produce, and star as the lead. Mankiewicz based the original outline on an exposé of the life of William Randolph Hearst, whom he knew socially and came to hate. When hearing of this Hearst's media outlets immediately boycotted the film, exerting enormous pressure and intimidation on the Hollywood film community. At one point they even offered to purchase the film, fully intending to burn the negative and existing prints, but RKO declined, and the film was given a limited release. Citizen Kane (1941) was well-received critically, as it garnered nine Academy Award nominations, but won only for Best Original Screenplay, shared by Mankiewicz and Welles. Although it was largely ignored at the Academy Awards, Citizen Kane is now hailed as one of the greatest films ever made. Andrew Sarris called it "the work that influenced the cinema more profoundly than any American film since The Birth of a Nation (1915)" and during the 1950s, the film came to be seen by young French film critics such as François Truffaut as exemplifying the auteur theory, in which the director is the 'author' of a film. Welles followed up Citizen Kane with such films as The Magnificent Ambersons (1942), The Stranger (1946), The Lady from Shanghai (1948), Othello (1952), The Complete Mr. Arkadin (1955), Touch of Evil (1958), The Trial (1962) and Chimes at Midnight (1965). Unfortunately Welles would forever struggle for creative control from major studios, while most all his films were either heavily edited or remained unreleased. For the rest of his life, Welles permanently remained an outsider to the studio system directing only 13 full-length films in his entire career. Even so, Welles distinctive directorial style presented revolutionary cinematic techniques that would forever change the language of cinema, including layered and nonlinear narrative forms, innovative uses of lighting such as chiaroscuro, unusual camera angles, sound techniques borrowed from radio, deep focus shots, long takes, and the use of innovative editing effects. Welles has been praised as a major creative force and as 'the ultimate auteur,' while in 2002, Welles was voted as the greatest film director of all time in two British Film Institute polls among directors and critics.
---
---
Orson Welles
Orson Welles Featured Films

Availability of

Orson Welles

movie memorabilia for sale changes daily.
The products and pricing shown below are current as of:

Tuesday, Oct 17, 2017
Orson Welles
---
Products previously bought from this site:
---
le proces bande originale de film orson welles jean ledrut japan lp ex nm, valerie hobson robert taylor 1954 maria montez orson welles exyu movie magazine , orson welles rosebud elvis presley milton berle leo dicaprio nude hollywood 1998, orson welles volume 2 hello americans by simon callow , waterloo japanese souvenir program 1970 rod steiger orson welles, the trial dvd 2015 orson welles anthony perkins, the magnificent ambersons dvd 2012 orson welles, radio spirits les miserables orson welles 3 cds7 programs, me amp; orson welles dvd used like new, filmfax 77 kevin mccarthy orson welles don quixote harlan ellison free ship, orson welles vhs citizen kane 50th anniversary edition, necromancy 1972 code red bluray oop orson welles allregion like new, ostle troisieme homme orson welles amp; la musiquejapan cd ltded c15, a man for all seasons1966 mint dvdwendy hiller susannah york orson welles , orson welles vhs lot f for fake chimes at midnight falstaff citizen kane, the shadow the fire bugdeath from the deep orson welles vinyl nm, othello orson welles belgian movie poster, the man who saw tomorrow vhs rare orson welles nostradamus, citizen kane rosebud tshirt orson welles classic hollywood , black magic 1949 orson welles nancy guild akim tamiroff the video late show vhs, orson welles citizen kane 50th anniversary limited edition box set vhs book mint, grateful dead backstage pass orson welles 1948 macbeth 1061994 philadelphia pa, grateful dead backstage pass orson welles the clock los angeles ca 1281993, orson welles third man citizen kane poster postcard prints, 1949 the 3rd man theme harry lime orson welles rare antique original sheet music, the third man 1949 vhs video orson welles joseph cotten , directed by john ford dvd 1971 peter bogdanovich orson welles free shipping, screen guide 1947 paulette goddard betty grable orson welles tyrone power , the magic world of orson welles citizen kane movies cinema third man rare direct, postcard of citizen kane orson welles movie 1, postcard of citizen kane orson welles movie 2, bts orson welles taking a break citizen kane alex kahle stamp, bts orson welles directing magnificent amersons 1941 with snipe, macbeth restored versionorson wellesroddy mcdowalluncut, postcard of touch of evil orson welles movie, tomorrow is forever steiner tobias claudette colbert sheet music orson welles, the stranger region free dvd orson welles classic bamp;w thriller film noir, someone to love dvd 2006neworson wellessally kellerman sealed, house of cardsorson wellesone sheet posteroriginal exnm, david and goliathone sheetoriginalorson welles ex, jane eyre amp; les miserables cliffsnotes dvd sets excellent condition orson welles, casino royale dvd 2002 james bond 1967 peter sellers orson welles woody allen, bernard hermann citizen kane argentine promo ost lp insert orson welles, orson welles hollywood icon set of 5 mint stamps, orson welles war of the worlds uncut 1938 broadcast cd, the vips dvd elizabeth taylor richard burton orson welles maggie smith, whos out there orson wellesalpha video 2017, vintage movie lobby card troubles in the glen margaret lockwood orson welles, found 8x10 photo of orson welles in citizen kane movie, orson welles 1938 broadcast reel to reel film microfilm type 1k 35mm untested, used movie dvd liquidation sale titles ss 745 buy 1 get 1 flat ship fee, orson welles the begatting of the president 1969 vinyl lp mediarts 412, joan fontaine is jane eyre original vintage orson welles fox film still 2, citizen kane 1941 preview document listing cast amp; more orson welles cotten, war of the worlds listeners choice by orson welles, orson welles on a carnival slide 1947 the lady fron shanghai nice photo, used music cd liquidation sale artists oo 361 buy 1 get 1 flat ship fee, films in review081987orson welleslee grantangel heartishtarfn, orson welles janet leigh touch of evil universal pictures film noir still, orson welles jeff chandler coleen miller man in the shadow orig western herald, apr1974 tv guiderichard roundtreeshaftorson wellesandy griffithpeter falk, new music cd liquidation sale artists ww 75 buy 1 get 1 flat ship fee, citizen kane twodisc special edition 2 dvd set 2001 orson welles classic, joan fontaine is jane eyre original vintage orson welles fox film still 1, joan fontaine is jane eyre original vintage orson welles fox film still 4, joan fontaine is jane eyre original vintage orson welles fox film still 3, orson welles macbeth 1948 restored version olive films 2012 bluray like new, citizen kane dvd orson welles two disc special edition classic everett sloane
Other Films and Movie Memorabilia Visitors Were Searching For...
---
hollywood film black camera behind, orson welles on set,