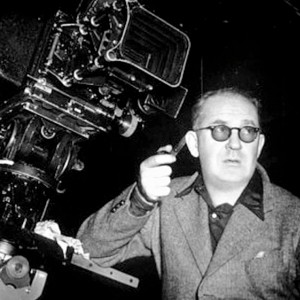 John Ford
John Ford was Hollywood's greatest chronicler of American history and is, arguably, The Great American Director. In a career that spanned more than 50 years, Ford directed more than 140 films (although nearly all of his silent films are now lost) and is widely regarded as one of the most important and influential of all Hollywood filmmakers. Ford left Maine for Hollywood in 1913, following one of his brothers who was an actor and began as a prop man. When asked what brought him to Hollywood, Ford simply replied "The train". Ford would later begin directing numerous silent westerns, and within time Ford became one of the most respected directors in the business, in spite of being mostly known for his westerns which were not considered 'serious' films. When directing Stagecoach in 1939, it was Ford's first western with sound and it starred actor John Wayne, who was a very close friend of the director. The success of Stagecoach made Wayne an American icon, and the two would continue to collaborate together frequently over the years in several western classics such as Fort Apache (1948), She Wore a Yellow Ribbon (1949), The Searchers (1956) and The Man Who Shot Liberty Valance (1962). Actor Henry Fonda became another member of Ford's informal repertory company, starring in Drums Along the Mohawk (1939), Young Mr. Lincoln (1939), My Darling Clementine (1946) and Mister Roberts (1955). Ford had an unrivaled eye for the long shot, location shooting and landscapes, most famously using the vast, harsh and rugged natural terrain of Monument Valley as the location setting for most of his Westerns. To this day Ford holds the record for winning the most Best Director Oscars, having won the award on four occasions for The Informer (1935), The Grapes of Wrath (1940), How Green Was My Valley (1941), and The Quiet Man (1952) —interestingly enough none of them were for his westerns. Ford is famous for wearing dark glasses and a patch over his left eye, which was only partly to protect his poor eyesight. He was an inveterate pipe-smoker and rarely drank during the making of a film, but when a production wrapped he would often lock himself in his study and go on a solitary drinking binge for several days. When Orson Welles, who repeatedly screened Ford's Stagecoach before shooting Citizen Kane (1941), was asked who his three favorite directors were, he answered, "John Ford, John Ford, and John Ford." Adept at all genres, Ford frequently explored his Irish roots but achieved his greatest renown for poetic visions of the American West, depicting its rugged heroes, pioneering families, and sense of male camaraderie. Ford's cinematic art is as much a part of Americana as a Frederic Remington painting of the Old West, a subject both lovingly portrayed in their respective media. John Ford was the first recipient of the American Film Institute Life Achievement Award in 1973, while, also in that year, Ford was awarded the Presidential Medal of Freedom by President Richard Nixon.
---
---
John Ford
John Ford Featured Films

Availability of

Director John Ford

movie memorabilia for sale changes daily.
The products and pricing shown below are current as of:

Tuesday, Jun 19, 2018
John Ford
---
Products previously bought from this site:
---
director john ford african natives vintage 1953 candid mogambo set mgm dbw photo, 3040002 great candid director john ford tyrone power john wayne on set film the, 3040001 great candid director john ford tyrone power on set film the long gray, 1660029 director john ford portrait 166029, 1660028 director john ford portrait 166028, 1660032 director john ford on set katharine hepburn and cast film mary of scotl, 1660031 director john ford on set katharine hepburn and cast film mary of scotl, 1660030 director john ford on set katharine hepburn and cast film mary of scotl, john ford prehollywood director ww ii navy portrait photo vintage original , dr jim stamps us john ford forever stamp great film directors fdc cover 2012, 058419 director john ford at work on set 58419, 058420 director john ford at work on set 58420
Other Films and Movie Memorabilia Visitors Were Searching For...
---
movie director autographs, director John fords, john ford eye patch, classic John Ford movie Stagecoach is about what war, john ford, john ford director biography, john ford the golden age in hollywood, movie director eyepatch,