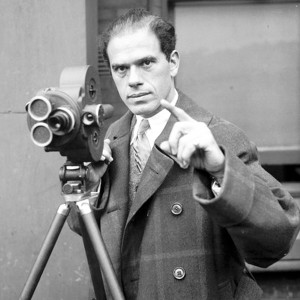 Frank Capra
Frank Capra was an American film director, producer and writer who became the creative force behind some of the major award-winning films of the 1930s and 1940s, winning three Oscars as Best Director. Born in Sicily, Capra immigrated to the United States with his family at the age of five and began in Hollywood in the silent era. Among his most successful films of the 30's was his screwball comedy classic It Happened One Night (1934), which became the first film to win all five top Oscars, including Best Picture. It Happened One Night was an instant worldwide hit, certifying Clark Gable once and forever as a definite star and making use of Claudette Colbert's comedic wit and timing, ultimately having its two polar opposites attract with a chemistry that has never been bettered. Capra made his most distinctive films in the Depression years of the 1930s and the wartime years of the 1940s, when America was shaken by uncertainty and found reassurance in films like You Can't Take it With You (1938), Mr. Smith Goes to Washington (1939) and Mr. Deeds Goes to Town (1941). James Stewart and Gary Cooper played the quintessential Capraesque heroes, representing the definite idealistic underdog who rose to fight against political corruption and public tyranny. Many of the elements of democracy, patriotism, decency, values and faith have major explicit political undertones throughout much of Capra's work. At the time critics were harsh on Capra's overly sentimental, simplistic and preachy style (many called his films capracorn), but throughout the years audiences have gained a soft spot for his sweet and optimistic views on idealism. And yet some of his films from the 30's and 40's were not all civic lessons and would not easily fall under Capra's 'capracorn' signature, including The Bitter Tea of General Yen (1932), Lost Horizon (1937) and Arsenic and the Old Lace (1944). During World War II, Capra served in the US Army Signal Corps and produced propaganda films, such as the Why We Fight series. After World War II Capra's career declined as his later films, most famously his masterpiece It's a Wonderful Life (1946), was not considered a successful film when it opened in 1946. The film's rediscovery began in the 1970s, when public TV stations started using it as cheap Christmas-time programming because it was out of copyright and it costed them nothing. Now its considered one of the most popular films in American cinema and is as part of the American holiday season along with A Miracle on 34th St. and A Christmas Story. The term 'Capracorn' is used by today's film critics as a word of both praise and criticism – praise when they agree with a film's portrait of the common man standing up against the system, criticism if they think a film is too sentimental and corny. Frank Capra, who outlived his films by 30 years, was never able to understand the negative connotations of 'Capracorn,' and perhaps that was one source of his strength as a director.
---
---
Frank Capra
Frank Capra Featured Films

Availability of

Frank Capra

movie memorabilia for sale changes daily.
The products and pricing shown below are current as of:

Tuesday, Jun 19, 2018
Frank Capra
---
Products previously bought from this site:
---
riding high dvd 2004 bing crosby coleen gray frank capra 1950 rare oop, american vision films of frank capra by ray carney brand new, tribute frank capra, factory sealed its a wonderful life vhs james stewart donna reed frank capra, frank capra collection dvd 2006 6disc set, tx estate 1947 signed frank capra letter its a wonderful life clarence liberty, 20 war movies amp; documentaries frank capra glenn ford jimmy stewart william wyler, 16mm the nazis strike 1943 frank capras hardhitting ww2 documentary, james stewart jean arthur amp; cast you cant take it with you frank capra photo, director frank capra van johnson vintage 1948 candid studio set mgm dbw photo, frank capras war comes to america world war ii collectors edition brand newvhs, lost horizon 1937 dvd ronald coleman jane wyatt frank capra john howard, frank capra castastrophe of success joseph mcbride good book 0 hardcover, frank capra and the cinema of identity celebration and interrogation hardc, why we fight wwii capra series saburo kurusu hans frank iii robert ley e, frank capras its a wonderful life james stewart rare artisan sealed, 1971 press photo frank capra hollywood film maker movie rrv34365, its a wonderful life james stewart frank capras region 4 new, frank capras why we fight series the battle of britain dvd walter huston, why we fight dvd 2008 2disc set frank capra, frank caprasits a wonderful lifevhs 1993uncut exclusive music videonew, mack sennett 1925 original silent film comedy lobby card frank capra alice day, cary grant arsenic and old lace original 1944 promo photo frank capra, frank capras a hole in the head 1959 frank sinatra edward g robinson sealed, frank capra meet john doe gary cooper barbara stanwyck 1941 classic dvd, frank capras award winning documentary wwii 5pack vhs new amp; sealed, pocketful of miracles 1961 frank capra glenn ford bette davis dvd new, frank capras world war 2 why we fight collector series set vhs 5tape set, frank capras world war ii vhs collection7 tapesfree shipping, frank capras why we fight the winning of ww ii 1990 vhs collectors ed, arsenic and old lace 1944 cary grant frank capra belgium movie poster , another frank capra cambridge studies in film by leland poague hardcover vg, american vision films of frank capra by raymond carney hardcover excellent, name above title by frank capra hardcover excellent condition, 5 war videos by frank capra why we fight ww 2, frank capras world war ii why we fight series vhs 6 full movies sealed, seein stars frank capra alice faye don ameche arleen whelan from 321941, the premiere frank capra collection dvd box set movie scrapbook 2006, frank capra edgar bergen bob burns vintage 3x4 photo 1930s at academy awards, kesselring arsenic amp; old lace 1st trade eddj 1941 film source frank capra, new meet john doe dvd gary cooper barbara stanwyck jon 1941 movie frank capra, arsenic and old lace vhs 1944 cary grant frank capra bamp;w, frank capra classic collection the matinee idol frank capras new dvd, 1980 directors guild of america frank capra achievement award first year , frank caprasits a wonderful life vhs 1993 uncut clamshellblack , theatre 1939 frank capras mr smith goes to washington movie history letterhead, frank capras eastern horizons american identity and the cinema of internationa, vhs frank capras the war years lot of 2 tunisian victory part i , you cant take it with you rare laserdisc frank capra acadamy award best picture, 2237005 barbara stanwyck frank capra on set 223705, frank capras you cant take it with you vhs james stewart, frank capra autographed postcard psa encapsulted authenticated wonderful life, frank capras mr smith goes to washington brand new, meet john doe gary cooper barbara stanwyck frank capra 9 photos , frank capras mr smith goes to washington james stewart 19361989, 2 new sealed 5 vhs box sets world war ii why we fight by frank capra flying f, original frank capras 1937 lost horizons movie poster lobby card incomplete, lost horizon 2 lobby card movie poster frank capras ronald colman, 1751036 candid frank capra ronald colman john howard jane wyatt margo on set fi, frank capra the early collection 5 discs 5 movies new sealed tracking, its a wonderful life very good 2disc jimmy stewart dvd classic frank capra, frank capras why we fight dvd used like new, its a wonderful life vhs bw 1947 james stewart donna reed frank capra classic, dvd pearl harbor 3dvd set frank capra acceptable cond ronald reagan jim b, 1601021 director frank capra portrait 160121
Other Films and Movie Memorabilia Visitors Were Searching For...
---
capra directs stewart, old hollywood photos public domain, director frank of classic films, ebay platinum blonde jean harlow reissue lobbycard 1950, frank capra the name above the title, Name the name of the character played by James Stewart in Frank Capra's 1946 classic Christmas film 'It's a Wonderful Life'?,