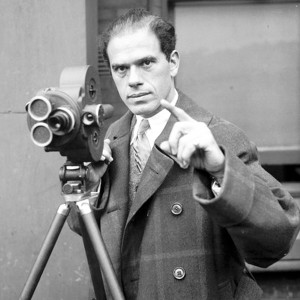 Frank Capra
Frank Capra was an American film director, producer and writer who became the creative force behind some of the major award-winning films of the 1930s and 1940s, winning three Oscars as Best Director. Born in Sicily, Capra immigrated to the United States with his family at the age of five and began in Hollywood in the silent era. Among his most successful films of the 30's was his screwball comedy classic It Happened One Night (1934), which became the first film to win all five top Oscars, including Best Picture. It Happened One Night was an instant worldwide hit, certifying Clark Gable once and forever as a definite star and making use of Claudette Colbert's comedic wit and timing, ultimately having its two polar opposites attract with a chemistry that has never been bettered. Capra made his most distinctive films in the Depression years of the 1930s and the wartime years of the 1940s, when America was shaken by uncertainty and found reassurance in films like You Can't Take it With You (1938), Mr. Smith Goes to Washington (1939) and Mr. Deeds Goes to Town (1941). James Stewart and Gary Cooper played the quintessential Capraesque heroes, representing the definite idealistic underdog who rose to fight against political corruption and public tyranny. Many of the elements of democracy, patriotism, decency, values and faith have major explicit political undertones throughout much of Capra's work. At the time critics were harsh on Capra's overly sentimental, simplistic and preachy style (many called his films capracorn), but throughout the years audiences have gained a soft spot for his sweet and optimistic views on idealism. And yet some of his films from the 30's and 40's were not all civic lessons and would not easily fall under Capra's 'capracorn' signature, including The Bitter Tea of General Yen (1932), Lost Horizon (1937) and Arsenic and the Old Lace (1944). During World War II, Capra served in the US Army Signal Corps and produced propaganda films, such as the Why We Fight series. After World War II Capra's career declined as his later films, most famously his masterpiece It's a Wonderful Life (1946), was not considered a successful film when it opened in 1946. The film's rediscovery began in the 1970s, when public TV stations started using it as cheap Christmas-time programming because it was out of copyright and it costed them nothing. Now its considered one of the most popular films in American cinema and is as part of the American holiday season along with A Miracle on 34th St. and A Christmas Story. The term 'Capracorn' is used by today's film critics as a word of both praise and criticism – praise when they agree with a film's portrait of the common man standing up against the system, criticism if they think a film is too sentimental and corny. Frank Capra, who outlived his films by 30 years, was never able to understand the negative connotations of 'Capracorn,' and perhaps that was one source of his strength as a director.
---
---
Frank Capra
Frank Capra Featured Films

Availability of

Frank Capra

movie memorabilia for sale changes daily.
The products and pricing shown below are current as of:

Saturday, Jan 25, 2020
Frank Capra
---
Products previously bought from this site:
---
the complete films of frank capra by victor scherle; william t levy, original vintage lost horizon candid ronald colman frank capra jane wyatt, original vintage lost horizon fashionable jane wyatt frank capra columbia, frank capra interviews conversations with filmmakers series, frank capra the name above the title an autobiography by capra frank, frank capra the catastrophe of success by joseph mcbride, name above the title by capra frank, 5 frank capras world war ii why we fight vhs videotape series new sealed, lost horizon 2 lobby card movie poster frank capras ronald colman, james stewart two new books anthony mann hitchcock henry fonda frank capra, the name above the title by capra frank jr, frank capra document double signed 08041958, 1977 press photo identity magazine frank capra rru15397, frank capra the name above the title nodust by capra frank, name above the title nodust by capra frank, frank capra collection dvd 2006 6disc set, frank capra signed first day cover, state of the union dvd 2006 frank capra film buy 2 get 1 free a16, rare firsts magazine august 1999 frank capra book collection victorian novelists, frank capras its a wonderful life original uncut version black , the premiere frank capra collection dvd 2006 6disc excellent condition, the name above the title an autobiography by frank capra, a3594 vive como quieras frank capra james stewart jean arthur lionel barrymo, frank capra document signed 08141958 cosigned by thelma ritter, riding high dvdmovie from 1950bamp;w111 min with bing crosby by frank capra, frank capradircary grant arsenic and old lace orig1944 movie pressbook, frank capras the battle of russia 1944 vhs movie world war ii 2 new, frank capra autograph on paper, its a wonderful life 1947 frank capra christmas dvd brand new, frank capra the early collection dvd 2014 5disc set, lot of 3 american film magazinesfrank capra fred astaire george lucas covers, american film magazine march 1982 americas love affair w frank capra cover, vintage vhs 1944 the battle of russia world war ii frank capra rare goodtimes, the premiere frank capra collection new sealed, frank capras eastern horizons american identity and by elizabeth rawitsch vg, the premiere frank capra collection 6 dvd box set movie scrapbook 2006, frank capras its a wonderful life 60th anniversary edition dvd new, 1937 lost horizon frank capra original movie release vintage print ad, frank capras documentary series world war ii why we fight dvd video new sealed, its a wonderful life dvd with bonus making of amp; more frank capra tom bosley usa, lady for a day 5 x lc french frank capra, american vision films of frank capra by ray carney mint condition, frank capra the name above the title an autobiography hardcover 1971, lost horizon 1937 1999 ronald colman restored brand new sealed dvd frank capra, new boxed frank capras its a wonderful life 1946 anniversary ed 2 disc set, 6 cachets 4669 rochester eddie anderson director frank capra gone with wind , vintage sheet music sunshine cake from frank capras riding high bing crosby, pocketful of miracles bluray frank capra glenn ford bette davis kino lorber, meet john doe dvd gary cooper barbara stanwyck jon 1941 movie frank capra, its a wonderful life by james w rodgers frank capra philip van doren stern, frank capra collection on dvd; 3rd one free director producer oscar winner, 1989 photo actor you cant take it with you james stewart frank capra 8x10, its a wonderful life colorizedbamp;w 2 discs bluray by frank capra used, frank capras meet john doe 1941 gary cooper barbara stanwyck walter brennan, three frank capra first edition hardcovers lot, the name above the title by frank jr capra hardcover photos 500pages, the new encore cinema theater 1978 film schedule 6 greta garbo frank capra, frank capra autographed inscribed photograph 1977, mr deeds goes to town 1936 lobby card gary cooper jean arthur frank capra comedy, mr smith goes to washington james stewart jean arthur frank capra classic dvd, frank capras why we fight dvd cert e, riding high 1950 dvd frank capra bing crosby brand new sealed, vintage magazine ad 1946 its a wonderful life movie frank capra james stewart, frank capras classic why we fight war comes to america wwii brand new vhs, frank capratls interesting content, vintage photo lost horizon 1937 frank capra movieshangri la, hemo the magnificent vhs 1957 vtg oop bell science how blood works frank capras, the battle of russia vhs frank capras award winning war 2 why we fight , the films of frank capra by donald c willis hardcover like new, arsenic and old lace 1944 movie photo raymond massey peter lorre frank capra, mr deeds goes to town dvd 2000 special ed frank capra gary cooper classic, arsenic amp; old lace extended play laserdisc ld cary grant frank capra, frank capras riding high dvd 1950 bing crosby horse racing coleen gray norental, frank capra rare collector series why we fight complete 5 vhs tapes new shrink, frank capra the name above the title 1971 autobiography; movie director, pocketful of miracles 1961 dvd oop r1 2001 mgm frank capra bette davis glen fo, mgm cary grant in frank capras arsenic amp; old lace vhs cassette tape, frank capras wwii special edition set of 7 tapes vhs vhs vhs vhs, frank capra presents a gary cooper barbara stanwych en mandamiento supremo, its wonderful life colorized version 1disc bluray 2019frank capraclassic, the negro soldier vhs frank capra us war department original film footage, frank capras you cant take it with you dvd 2003 james stewart 1938, 2237005 barbara stanwyck frank capra on set 223705 2237005, frank capras pocketful of miracles new dvd
Other Films and Movie Memorabilia Visitors Were Searching For...
---
capra directs stewart, old hollywood photos public domain, director frank of classic films, ebay platinum blonde jean harlow reissue lobbycard 1950, frank capra, frank capra the name above the title, Name the name of the character played by James Stewart in Frank Capra's 1946 classic Christmas film 'It's a Wonderful Life'?,