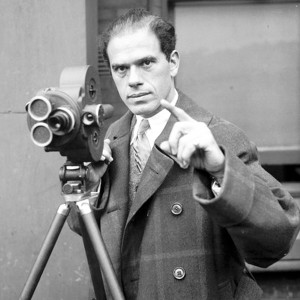 Frank Capra
Frank Capra was an American film director, producer and writer who became the creative force behind some of the major award-winning films of the 1930s and 1940s, winning three Oscars as Best Director. Born in Sicily, Capra immigrated to the United States with his family at the age of five and began in Hollywood in the silent era. Among his most successful films of the 30's was his screwball comedy classic It Happened One Night (1934), which became the first film to win all five top Oscars, including Best Picture. It Happened One Night was an instant worldwide hit, certifying Clark Gable once and forever as a definite star and making use of Claudette Colbert's comedic wit and timing, ultimately having its two polar opposites attract with a chemistry that has never been bettered. Capra made his most distinctive films in the Depression years of the 1930s and the wartime years of the 1940s, when America was shaken by uncertainty and found reassurance in films like You Can't Take it With You (1938), Mr. Smith Goes to Washington (1939) and Mr. Deeds Goes to Town (1941). James Stewart and Gary Cooper played the quintessential Capraesque heroes, representing the definite idealistic underdog who rose to fight against political corruption and public tyranny. Many of the elements of democracy, patriotism, decency, values and faith have major explicit political undertones throughout much of Capra's work. At the time critics were harsh on Capra's overly sentimental, simplistic and preachy style (many called his films capracorn), but throughout the years audiences have gained a soft spot for his sweet and optimistic views on idealism. And yet some of his films from the 30's and 40's were not all civic lessons and would not easily fall under Capra's 'capracorn' signature, including The Bitter Tea of General Yen (1932), Lost Horizon (1937) and Arsenic and the Old Lace (1944). During World War II, Capra served in the US Army Signal Corps and produced propaganda films, such as the Why We Fight series. After World War II Capra's career declined as his later films, most famously his masterpiece It's a Wonderful Life (1946), was not considered a successful film when it opened in 1946. The film's rediscovery began in the 1970s, when public TV stations started using it as cheap Christmas-time programming because it was out of copyright and it costed them nothing. Now its considered one of the most popular films in American cinema and is as part of the American holiday season along with A Miracle on 34th St. and A Christmas Story. The term 'Capracorn' is used by today's film critics as a word of both praise and criticism – praise when they agree with a film's portrait of the common man standing up against the system, criticism if they think a film is too sentimental and corny. Frank Capra, who outlived his films by 30 years, was never able to understand the negative connotations of 'Capracorn,' and perhaps that was one source of his strength as a director.
---
---
Frank Capra
Frank Capra Featured Films

Availability of

Frank Capra

movie memorabilia for sale changes daily.
The products and pricing shown below are current as of:

Monday, Aug 21, 2017
Frank Capra
---
Products previously bought from this site:
---
its a wonderful life 1946 dvd frank capra free shipping 76, frank capra lawrence tibbet rare 1915 high school yearbook, cary grant arsenic and old lace original 1944 promo photo frank capra, world war ii5 dvd box setby frank capra 10 hoursaward winning, frank capras its a wonderful life 60th anniversary edition dvd new sealed, its a wonderful life vhs 1993 frank capras original new sealed, harry langdon the forgotten clown 3 film dvd set silent comedy frank capra, lost horizon frank capra poster color transparencyslide original movie photo, lost horizon frank capra poster 2 color transparencyslide original movie photo, pocketful of miracles glenn ford bette davis frank capra original 1962 poster, its a wonderful life 1946 frank capra vhs video uncut 1993 republic stewart new, bell science our mr sun vhs frank capra rhino eddie albert rare, frank capra collection dvd 6disc set 2006 clark gable james stewart gary cooper, graebner chapter afdcs 4669 film director frank capra color postmark movie tkt , frank capras world war ii vhs collection7 tapesfree shipping, frank capras why we fight the winning of ww ii 1990 vhs collectors ed, frank capras a hole in the head 1959 frank sinatra edward g robinson sealed, world war 2 why we fight 5 pack vhs new sealed by frank capra military, frank capra the premiere collection 6 dvds very good condition movie scrapbook, nip its a wonderful life vhs bamp;w 1947 james stewart donna reed frank capra, frank capras why we fight 4 dvd4 pcs testedrare vintageships n 24 hours, autographed 1st edition book the films of frank capra signed , frank capra signed 8 x 10 bw photo famous film director amp; academy award winner, its a wonderful life director frank capra original uncut version vhs new sealed, 1998 press photo frank capra in frank capras american dream cvp07826, why we fight world war ii dvd 4 disc set produced by frank capra documentary, meet john doe slim case new dvd barbara stanwyck gary cooper frank capra, frank capras lost horizon vhs 1989 ronald colman jane wyatt rare classic, american film institute frank capra 1982 id2011wv laserdisc, vintage still 1937 frank capras lost horizon, dvds choose from list each $450 multiple purchase discounts on shipping, dvd platinum blonde frank capra very good cond loretta young robert willia, here is germany wwii soldier education orientation frank capra dir dvd c491, lost horizon 2 lobby card movie poster frank capras ronald colman, vintage movie still photo lionel barrymore you cant take it with you frank capra, name above the title by frank capra hardcover brand new, ww ll dvd amp; cd box set hollywood goes to war pearl harbor to victory frank capra, frank capra the catastrophe of success exlib, platinum blonde dvd jean harlow frank capra loretta young robert williams, american vision the films of frank capra by carney raymond, the matinee idol frank capra s american dream new dvd, world war ii why we fight frank capra collectors edition 3 war documentaries, vintage readers digest october 1947 detroitnew labor lawfrank capraalbania, frank capra ink signed 1945 fdc with caricature ink sketch, the premiere frank capra collection mr smith goes to washington it happened, arsenic and old lace new dvd cary grant raymond massey frank capra, you cant take it with you frank capra 1939 blu ray watched once, you cant take it with you 1938 frank capra dvd new disc only, world war ii 12 pack set vhs video tape set frank capras ww 2 documentary , frank capras you cant take it with you orig 2003 sony dvd new sealed not asian, frank capras lady for a day dvd, 1934 movie lady for a day warren william amp; may robson a frank capra production, world war ii produced by frank capra 5 collector vhs tapes, arsenic and old lace 1944 cary grant frank capra belgium poster sale, jimmy stewart signed cuts card photo lot its a wonderful life frank capra, hole in the head orig movie photos 1959 frank sinatra frank capra musical comedy, vintage press photo 1951 jerry lewis bing crosby jane wyman frank capra rare, frank capra collection dvd 2006 6disc set brand new sealed, frank capras world war ii why we fight series vhs sealed 7 parts, frank capras american dream new vhs narrated by ron howard, frank capra collection dvd 2006 6disc set, it happened one night dvd new frank capra clark gable claudette colbert classic, its a wonderful life by frank capra james stewart donna reed vhs 1993 new, pic bob burns edgar bergen frank capra 204803, mr smith goes to washington vhs 1993 james stewart frank capra, its a wonderful life vhs bw 1947 james stewart donna reed frank capra classic, pic ad slick dirigible frank capra production 322915, frank capra early collection dvd used like new, pic paul muni luise rainer frank capra on stage academy awards w their statues 1, frank capras world war ii why we fight vhs by , pic jimmy stewart jean arthur frank capra mr smith goes to washington 204810, pic jimmy stewart jean arthur frank capra mr smith goes to washington 204809, pic jimmy stewart frank capra buelah bondy 204808, pic grace zaring stone frank capra barbara stanwyck 204804, pic frank sinatra frank capra hole in the head 204805, pic frank capra jean arthur you cant take it with you 204811, riding high orig 1950 lc 4 bing crosby in a fist fight a frank capra film, arsenic amp; old lace dvd raymond massey cary grant frank capra, frank capras the matinee idolamerican dream new sealed, the premiere frank capra collection mr smith goes to washington it happened , frank capra autographed postcard psa encapsulted authenticated wonderful life, frank capra you cant take it with you dvd james stewart academy award winner, frank capras mrdeeds goes to town1936gary cooper jean arthur george bancroft, mr smith goes to washington vhs 1939 film frank capra james stewart c10, american film magazine 1982 march americas love affair with frank capra, movie directors frank capra its a wonderful life, you cant take it with youclassic frank capra film jimmy stewartnew low price, prelude to war very good dvd capra frank documentary like new, 91 robert de niro frank capra seven samurai julie delpy greta scacchi sean penn, american film frank capra costagavras daniel melnick 3 1982 mailing label, eric loren smoodin regarding frank capra audience very good condition , platinum blonde dvd 2003 brand new frank capra jean harlow , super 8 bamp;w film frank capras super hooper dyne lizzies 1925 billy bevin, barbara stanwyck bio robert taylor frank capra william holden movie star hcdj, frank capra wwii documentaries vhs divide amp; conquer ftw33980 new
Other Films and Movie Memorabilia Visitors Were Searching For...
---
capra directs stewart, old hollywood photos public domain, director frank of classic films, ebay platinum blonde jean harlow reissue lobbycard 1950, frank capra the name above the title, Name the name of the character played by James Stewart in Frank Capra's 1946 classic Christmas film 'It's a Wonderful Life'?,