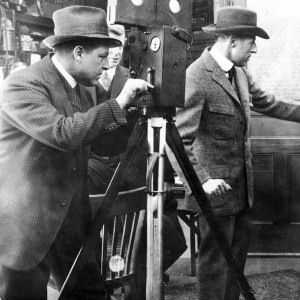 D.W. Griffith
D. W. Griffith was an American film director who is known for assembling and perfecting the early discoveries of film language, making him among the most important figures in the history of the medium. Griffith is mostly remembered as the director of the 1915 silent film The Birth of a Nation and the subsequent film Intolerance (1916), while being closely associated with his frequent leading lady, Lillian Gish. His film The Birth of a Nation used various cinematic methods which have influenced the visual strategies of virtually every film made since, while its immense popularity set the stage for the dominance of the feature-length film in the United States. Since its release, the film has been highly controversial for its negative depiction of African Americans and glorification of the Ku Klux Klan. Based on the novel and play The Clansman, The Birth of a Nation is both lionized for its radical technique and condemned for its racist philosophy. Filmed at a cost of $110,000, it returned millions of dollars in profits, making it, perhaps, the most profitable film of all time. The film was subject to boycotts by the NAACP and, after screenings of the film had caused riots at several theaters, the film was censored in many cities, including New York City. Intolerance, his next important film, was, in part, an answer to his critics. Intolerance was a three-and-a-half hour epic intercutting four parallel storylines, each separated by several centuries, while being linked by shots of a figure representing Eternal Motherhood rocking a cradle. The film was a colossal undertaking featuring monumental sets, lavish period costumes, and more than 3,000 extras. Although Intolerance was a commercial failure upon its initial release, its unorthodox editing were enormously influential, particularly among European and Soviet filmmakers. Several of Griffith's later films, including Broken Blossoms (1919), Way Down East (1920) and Orphans of the Storm (1921) were also successful, but his high production, promotional, and roadshow costs often made his ventures commercial failures. By the time of his final feature, The Struggle (1931), Griffith had made roughly 500 films. Today Griffith has gained recognition for advancing the level of film grammar and pushing it to a new levels of artistic expression within the film medium. One of Griffith's key contributions was his pioneering of advanced camera and narrative techniques, and of cross-cutting to follow parallel lines of action. From Griffith's success in using these cinematic innovations comes the chase scene along with many other modern developments ranging from night photography, the use of the iris shot and distinctive color tinting. Mostly forgotten by movie goers of the time, Griffith was held in awe by many in the film industry and in the mid-1930s, he was given a special Oscar by the Academy of Motion Picture Arts and Sciences.
---
---
D.W. Griffith
D.W. Griffith Featured Films

Availability of

D.W. Griffith

movie memorabilia for sale changes daily.
The products and pricing shown below are current as of:

Tuesday, Dec 12, 2017
D.W. Griffith
---
Products previously bought from this site:
---
1555 fdc 10c d w griffith fleetwood ua, intolerance 1916 reproduction photo dw griffith walter hall set design silent , the film daily february 6 1928 d w griffith streets of shanghai, dw griffith abraham lincoln walter huston new sealed vhs, dw griffith autographed signed album page cut, scott 1555 dw griffith 1975 artcraft fdc with pb4 mnh og lotrb, the birth of a nation birth of a race laserdisc ld dw griffith free ship $30, vintage united states postage stamp dw d w griffith movie film maker cancelled, the struggle rare dw griffith silent drama vhs 1931 oop htf hal skelly aa, fdc d w griffithworld peace through lawadolph ochsintl womens yearshipfast, scott 1555 d w griffith, josephine dunn rare early vintage original autographed photo d w griffith, us plate block of 4 scott 1555 dw griffith mnh 1975, d w griffith 10c stamp fdc ellis hc sc1555 motion picture director , dw griffith the years at biograph by robert m henderson 1970 hc dj 1st edition, usa 1555 1975 10c d w griffith mnh nice stamp, 1915 birth of a nation movie ad postcard dw griffith pasco wa liberty theatre, intolerance silent bluray dw griffith lillian gish bluray, first day cover 1555 moviemaker d w griffith 10c artcraft ua fdc 1975, scott 1555 dw griffith may 27 1975 ua medallion fdc, scott 1555 dw griffith 1975 medallion fdc with zip4 mnh og, bluray birth of a nation uncut directors cut bluray new dw griffiths, d w griffith ten stills museum of modern art1965 rare stills, broken blossoms dvd 2001 dw griffith lillian gish kino, d w griffith 1920 1930 chocolate card, d w griffith c1915 rare tuxedo tobacco store display poster, focus on d w griffith film focus hardcover mint condition, us mint nh ll zip code blk of 4 10c d w griffith motion picture 1555 , us mint nh ul plate blk of 4 10c d w griffith motion picture 1555, 1920s dw griffith original letterhead new york city hollywood director rare, the rivals of dw griffith alternate auteurs 19131918 wpictures dj1sthb , official first day of issue honoring d w griffith motion picture pioneer 1975, dw griffith father of film , scott 1555 10cent us postage dw griffith plate block of 4 mnh fvf og, 1961 shot analysis of dw griffiths birth of a nation by theodore huff moma, the films of d w griffith by edward wagenknecht 1975 hardcover, d w griffith intolerance 1916 color tinted silent dvd full frame masterworks a92, us 1555 d w griffith zip block 1975 nh og, d w griffith richard schickel hollywood 1st ed cinema film movies hardback, lot 1931 vintage 7 press photos theater beauv fox d w griffith pauline lord more, abraham lincoln vhs walter huston jason robards dw griffith 1930, us stamps scott 1555 dw griffith plate block of four mnh 10 cents 1975, dvd abraham lincoln dw griffith very good cond walter huston una merkel, 1971 focus on d w griffith by harry m geduld fn 60 prentice hall paperback, dw griffith father of film by lindsay anderson, afi report 1973 american film institute women in movies dw griffith, 1920 d w griffith moving picture title song sheet music the greatest question, the birth of a nation by d w griffith; robert lang, usa 1975 $10 1555 dw griffith issue pb of 20 mnh cv $500, the sorrows of satan 1926 dw griffith silent rare, the birth of a nation 1915 original pictorial movie program dw griffith, the theology of ptforsyth by gwilym ogriffith lutterworth hb dw 1948, the films of d w griffith cambridge film classics exlibnodust, dw griffith and the origins of american narrative film the early years at, dw griffith a biograph treasury program 1975 march 18 la int film exposition, way down east dvd 1998 lilian gish richard barthelmess; dwgriffith 1920, the films of d w griffith, early ellis hdhandpainted fdc first day cover1975 d w griffith movie maker, 8b03095 dw griffith john gilbert doug fairbanks mary pickford ua theatre prom, 8b03094 director dw griffith portrait 8b03094, dvd dw griffiths abraham lincolnwalter hustonuna merkel, dw griffith inventor of hollywood writer producer director coin medal, oliver stone hand signed 1975 fdc first day cover autographed dw griffith, d w griffith an american life by richard schickel hardcover excellent, 45bx0199 dw griffith directing unknown silent film 45bx0199, 394928 dw griffith behind the scenes silent film way down east 394928
Other Films and Movie Memorabilia Visitors Were Searching For...
---
d w griffith classic, d w griffith presents america, D W griffiths silent filom maker, lillian gish and d w griffith, rare movie maker us 10 c dwgriffith stamps, silent film of 1916 featuring lillian gish as the eternal motherhood, silent movie creater Griffith, ‎lillan gish and DW griffth biography,