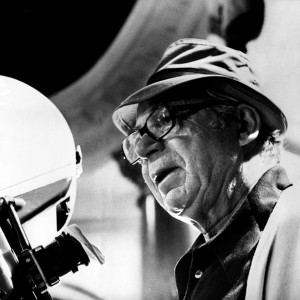 Billy Wilder
Billy Wilder was an Austrian-born American filmmaker, screenwriter, producer, artist and journalist, whose career spanned more than 50 years and 60 films. He is regarded as one of the most brilliant and versatile filmmakers of Hollywood's Golden Age and is one of only five people to have won Academy Awards as producer, director and screenwriter for the same film (The Apartment). Wilder was born to a Jewish family in Sucha Beskidzka, Austria-Hungary and became a screenwriter in the late 1920s while living in Berlin. After the rise of the Nazi Party, Wilder left for Paris, where he made his directorial debut. He moved to Hollywood in 1933, and in 1939 he had his first hit when he co-wrote the screenplay for the Greta Garbo screwball comedy Ninotchka. In 1944 Wilder finally established his directorial reputation with Double Indemnity (1944), a thrilling murder story he co-wrote with crime novelist Raymond Chandler. Double Indemnity became the quintessential film noir with despicable characters who nonchalantly strutted through the formula of a routine murder plot, using cold sex play and mannerisms while spurting out snappy dialogue with a tough cynical attitude. A year later Wilder finally earned the Best Director and Best Screenplay Academy Awards for the gritty alcoholic drama The Lost Weekend (1945). In 1950, Wilder co-wrote and directed Sunset Blvd, a bleak and cynical black comedy and arguably the greatest film ever made that explored the dark sides of Hollywood and stardom. One year after scandalizing Hollywood, Wilder examined the gritty world of shady journalism, corrupt politicians and the exploitation of the media with his most underrated noir Ace in the Hole (1951). Besides films like Stalag 17 (1953) or Witness for the Prosecution (1957), Wilder began to focus mostly on classic comedies and farces throughout the 50's and 60's, including The Seven Year Itch (1955), Some Like It Hot (1959), The Apartment (1960), Sabrina (1954) One Two Three (1961) and The Fortune Cookie (1966). Wilder holds a significant place in the history of Hollywood censorship for expanding the range of acceptable subject matter in American movies. Even today Wilder's films do not date or age, retaining the same fresh, timeless and cynical edge, never resorting to cheap sentimentality. Wilder was recognized for various different awards throughout the years including the (AFI) Life Achievement Award in 1986, the Irving G. Thalberg Memorial Award in 1988, and in 1993 he was awarded the National Medal of Arts. With eight nominations for Academy Award for Best Director, Wilder is, together with Martin Scorsese, the second most nominated director in the history of the Academy Awards, behind William Wyler, and the second most nominated screenwriter behind Woody Allen. When Wilder died in 2002 at the age of 95 a French newspaper Le Monde titled its first-page obituary, "Billy Wilder dies. Nobody's perfect", quoting the final gag line in his comedy Some Like It Hot.
---
---
Billy Wilder
Billy Wilder Featured Films

Availability of

Billy Wilder

movie memorabilia for sale changes daily.
The products and pricing shown below are current as of:

Friday, Mar 22, 2019
Billy Wilder
---
Products previously bought from this site:
---
the spirit of st louis pressbook james stewart charles lindberge billy wilder, billy wilder , billy wilder speaks kino international, double indemnity by billy wilder used, billy wilder american film realist new, billy wilder and his wife at the restaurant le cirque vintage photo, its the pictures that got small charles brackett on billy wilder and new, the fortune cookie 1966 laserdisc ld deluxe billy wilder jack lemmon sealed, the billy wilder collection dvd 2006 3disc set factory sealed, billy wilder signed card writer director sunset blvd swanson monroe lemmon , vintage tony curtis in drag 59 billy wilder some like it hot publicity portrait, fedora movie program book 1980 billy wilder william holden keller rare japan fs, marilyn monroe seven year itch movie print 11x17 poster billy wilder film , ace in the hole dvd 1951 criterion collection 396 brand new billy wilder, marilyn monroe the seven year itch billy wilder german 1sheet great , billy wilder and gina lollobrigida at the restaurant le cirque vintage photo, billy wilder at the 1988 academy awards with tje irving g thalberg memorial aw, 1967 press photo billy wilder producer director and writer lrx55028, private lives of sherlock holmes 1970 16mm film christopher lee billy wilder, the apartment dvd shirley maclaine jack lemmon fred macmurray billy wilder nice, marlene dietrich jean arthur john lund a foreign affair billy wilder 1948, the billy wilder dvd collection 9pack dvd 2003 9disc set rare brand new, billy wilder the lost weekend ray milland new dvd, sabrina bogart hepburn holden dvd 2001 commemorative editdir billy wilder, stalag 17 special edition dvd new william holden billy wilder wwii, one two three bluray disc 2017 comedy billy wilder kino lorber, avanti original movie glass advertising slide jack lemmon billy wilder, jack lemmon the front page movie poster 1975 spanish billy wilder, stalag 17 dvd 1999 sensormatic william holden billy wilder, 1965 kiss me stupid original 30x40 movie poster dean martin billy wilder comedy, some like it hot hc taschen first edition marilyn monroe script billy wilder , director billy wilder vintage photo, walter matthau billy wilder and jack lemmon vintage photo, billy wilder signed autographed 3x5 card jsa certified director writer producer, billy wilder stalag 17 william holden 1953 classic dvd, stalag 17 1991 paramount vhs william holden billy wilder, double indemnity 70th anniversary 1944 billy wilder blu ray us region all, billy wilders some like it hot first edition taschen book with dvd, billy wilder collection vol 1 dvd 2006 region 2 pal 5 classics in 1 set, conversations with billy wilder by cameron crowe hardcover, love in the afternoon 1957 gary cooper audrey hepburn billy wilder dvd, some like it hot japanese leaflet vintage billy wilder marilyn monroe movie y09, billy wilder american film magazine 1986 vintage on the set of heartburn, lobby card the apartment das appartement billy wilder, billy wilder audrey hepburn gary cooper love in the afternoon 3 read, billy ver planck amp; his orchestra the best of 195758 2cd joe wilderphil woods, the lost weekend billy wilder ray milland neat playing card 5y4, billy wilders one two three bluray disc 2017 mr78b123 brand new, some like it wilder the life and controversial films of billy wilder hcdj, double indemnity special edition 2disc dvd billy wilder film noir mint, the major and the minor 1942 vhs ginger rogers ray milland billy wilder, irma la doucebilly wilderjlemmonshirley maclainegerman dina0 33x47 , 04790 fs ex laserdisc irma la douce billy wilder njl99509 wobi from japan, billy wilder complete films cinema of wit 1906 2002 by glenn hopp mint, billy wilder signed index card d2002 academy award winner, authentic billy wilder autograph on 3 by 5 index card some like it hot director, the fortune cookie 1966 twilight time 2017 bluray release billy wilder, the billy wilder dvd collection dvd 2006 3disc set, original 1962 onetwothree 30 x 40 theatre movie poster billy wilders, the lost weekend billy wilder 1945 eureka moc bluray steelbook region b, vintage original 1951 ace in the hole lobby card 8 kirk douglas billy wilder, vintage original 1951 ace in the hole lobby card 3 kirk douglas billy wilder, the billy wilder dvd collection 3 dvd set factory sealed, billy wildersfive graves to cairo vintage vhs tape opened but mint, james stewart the spirit of st louis billy wilder the lindbergh flight, private life of sherlock holmes billy wilder eureka moc bluray dvd region b, billy wilder 1986 american film magazine grace kelly john ford peter weir, the billy wilder collection dvd 2006 3disc set, stalag 17 1953 billy wilder blu ray region b uk sealed, 6 cachets 4670 johnny lee director billy wilder spirit of st louis lindbergh , billy wilder by bernard dick 1980 twayne press boston ist edition hc w photos, 1945 rare billy wilders the lost weekend promo ad, mauvaise graine billy wilder liebelei video dealer brochure 1990s , the billy wilder dvd collection 9pack dvd 2003 9disc set, billy wilder ginger rogers candid film break photo, some like it hot billy wilder taschen 2001 with marilyn prompt book, five graves to cairo vhs 1943 billy wilder, a billy wilder film the seven year itch original soundtrack lp marilyn monroe le, billy wilders the private life of sherlock holmes bluray disc 2014, sight amp; sound vol322 spring 1963 uk after bergman billy wilder, billy wilder film collection 4 new dvd 2008 apartment fortune cookie , maurice zolotow billy wilder in hollywood first edition 1977, sunset boulevard signed script swanson billy wilder bill holden keaton copy, the front page dvd 1998 billy wilder jack lemmon walter matthau, private life of sherlock holmes 1970 billy wilder rare exyu movie poster, the apartment and the fortune cookie by billy wilder amp; i diamond, sabrina dvd bogart ahepburn bill holden nice classic billy wilder, sunset boulevard by billy wilder excellent condition, closeup on sunset boulevard billy wilder norma desmond and by sam mint, original billy wilder autograph signed index card, billy wilders some like it hot book and dvd, one two three 1961 billy wilder comedy laserdisc japan ntsc obi tracking, sealed some like it hot 1959 soundtrack record lp marilyn monroe billy wilder, fedora 1978 marthe keller billy wilder william holden exyu rare movie poster, some like it hot by billy wilder amp; diamond 1959 signet s1656 mti marilyn monroe, the billy wilder dvd collection 9pack dvd 2003 9disc set new sealed nib, irma la douce 1963 16mm comedy jack lemmon shirely maclaine billy wilder, billy wilders some like it hot taschen book dvd hotel del coronado new
Other Films and Movie Memorabilia Visitors Were Searching For...
---
Billy WIlder was a Jewish Polish born American filmmaker, billy wilder was a jewish polish-born american filmmaker screen writer, director wilder of the golden age, hotmarlin munro, limited edt hardback book billywilders some like it hot,