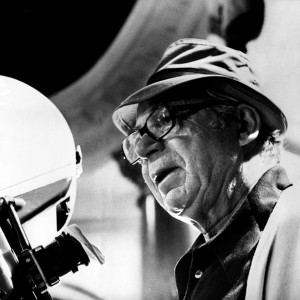 Billy Wilder
Billy Wilder was an Austrian-born American filmmaker, screenwriter, producer, artist and journalist, whose career spanned more than 50 years and 60 films. He is regarded as one of the most brilliant and versatile filmmakers of Hollywood's Golden Age and is one of only five people to have won Academy Awards as producer, director and screenwriter for the same film (The Apartment). Wilder was born to a Jewish family in Sucha Beskidzka, Austria-Hungary and became a screenwriter in the late 1920s while living in Berlin. After the rise of the Nazi Party, Wilder left for Paris, where he made his directorial debut. He moved to Hollywood in 1933, and in 1939 he had his first hit when he co-wrote the screenplay for the Greta Garbo screwball comedy Ninotchka. In 1944 Wilder finally established his directorial reputation with Double Indemnity (1944), a thrilling murder story he co-wrote with crime novelist Raymond Chandler. Double Indemnity became the quintessential film noir with despicable characters who nonchalantly strutted through the formula of a routine murder plot, using cold sex play and mannerisms while spurting out snappy dialogue with a tough cynical attitude. A year later Wilder finally earned the Best Director and Best Screenplay Academy Awards for the gritty alcoholic drama The Lost Weekend (1945). In 1950, Wilder co-wrote and directed Sunset Blvd, a bleak and cynical black comedy and arguably the greatest film ever made that explored the dark sides of Hollywood and stardom. One year after scandalizing Hollywood, Wilder examined the gritty world of shady journalism, corrupt politicians and the exploitation of the media with his most underrated noir Ace in the Hole (1951). Besides films like Stalag 17 (1953) or Witness for the Prosecution (1957), Wilder began to focus mostly on classic comedies and farces throughout the 50's and 60's, including The Seven Year Itch (1955), Some Like It Hot (1959), The Apartment (1960), Sabrina (1954) One Two Three (1961) and The Fortune Cookie (1966). Wilder holds a significant place in the history of Hollywood censorship for expanding the range of acceptable subject matter in American movies. Even today Wilder's films do not date or age, retaining the same fresh, timeless and cynical edge, never resorting to cheap sentimentality. Wilder was recognized for various different awards throughout the years including the (AFI) Life Achievement Award in 1986, the Irving G. Thalberg Memorial Award in 1988, and in 1993 he was awarded the National Medal of Arts. With eight nominations for Academy Award for Best Director, Wilder is, together with Martin Scorsese, the second most nominated director in the history of the Academy Awards, behind William Wyler, and the second most nominated screenwriter behind Woody Allen. When Wilder died in 2002 at the age of 95 a French newspaper Le Monde titled its first-page obituary, "Billy Wilder dies. Nobody's perfect", quoting the final gag line in his comedy Some Like It Hot.
---
---
Billy Wilder
Billy Wilder Featured Films

Availability of

Billy Wilder

movie memorabilia for sale changes daily.
The products and pricing shown below are current as of:

Tuesday, Dec 12, 2017
Billy Wilder
---
Products previously bought from this site:
---
billy wilder ginger rogers candid film break photo, billy wilder classic hand signed autograph, marlene dietrich amp; billy wilder reviewing film photo, american film magazine 1986 march billy wilder master of old hollywood, american film magazine 1979 feb the gangs of hollywood billy wilder and fedora, norma desmond sunset boulevard tshirt billy wilder, dvd love in the afternoon billy wilder very good cond olga valry audrey h, some like it hot marilyn monroe billy wilder tony curtis jack lemmon photos hc, the apartment shirley mac laine jack lemmon dirbilly wilder oscar 1960, the apartment ii shirley mac laine jack lemmondirbilly wilder oscar 1960, billy wilder and otto preminger in stalag 17 1953 silver gelatin vintage print, the billy wilder collection dvd set sunset boulevard, the private life of sherlock holmes crime comedy vhs 1970 billy wilder key video, a foreign affair original one sheet poster marlene dietrich billy wilder 1948, fedora 1978 marthe keller billy wilder william holden exyu rare movie poster, stalag 17 dvd 1999 sensormatic william holden otto preminger billy wilder, stalag 17 1953 oscar ad with william holden otto preminger billy wilder, the private life of sherlock holmes bluray billy wilder like new, the seven year itchdvdmarilyn monroetom ewellbilly wilder, billy wilder 14th annual afi life achievement award original program 1986 rare, marilyn monroe actress with billy wilder in 1999 magazine print photo clipping, the billy wilder dvd collection 9pack dvd 2003 9disc set, billie dove vintage 1929 wilder movieland keeno game card trading card, one two three dvd 1961 comedy billy wilder james cagney, billy wilder some like it hot authenticallysigned 8x10 b amp; w portrait, marilyn monroe onset with billy wilder 1xrare5x7 photo, marilyn monroe billy wilder the complete films19062002 french book very rare, doyle sir arthur conan billy wilder adapted screenplay for the priv lot 185, avanti dvd 2003 billy wilder samuel wilder, vintage 80s marilyn monroe some like it hot billy wilder movie tshirt cult , 2012 great film directorsbilly wilder forever us postage stamp scott 4670 mint, the spirit of st louis pressbook james stewart charles lindberge billy wilder, billy wilder signed autographed 3x5 index card coa, theme from the apartmentpiano solo sheet music1949billy wilderjack lemmon, marilyn monroe onset with billy wilder 1xrare8x10 photo, horizon magazine winter 1973 billy wilders some like it hot marilyn monroe, five graves to cairo orig 1943 rare billy wilder ww ll onesheet, a4922 la vida privada de sherlock holmes billy wilder , 1999 billy wilder autograph director, billy wilder old sea captain canvas painting, spiderman ed harris billy wilder andie macdowell empire magazine 2002, marilyn monroe the seven year itch billy wilder german 1sheet great , jack lemmon extrablatt walter matthau billy wilder french , marilyn monroe some like it hot tony curtis billy wilder german 1sh , james cagney one two three billy wilder horst buchholz german 1sh , the billy wilder collection dvd 2002 3disc set very rare set brand new , on sunset boulevard the life and times of billy wilder by ed sikov, billy wilders some like it hot with dvd, sunset boulevard billy wilder movie postcard gloria swanson william holden, stalag 17 bluray disc 2013 william holden otto preminger billy wilder, billy wilders the apartment jack lemmon shirley maclaine dvd 6a, the apartment dvd 2001 billy wilder jack lemmon shirley maclaine, sunset boulevard dvd 2002 collectors edition directed by billy wilder, 2 classic war movies billy wilders stalag 17 1953 the dirty dozen 1967, love in the afternoon ariane audrey gary maury billy wilder izzy diamond r2 pal , nobodys perfect billy wilder a personal biography excellent condition, the billy wilder dvd collection stalag 17 sunset boulevard amp; sabrina , irma la douce amazing original czech poster billy wilder jack lemmon maclaine, some like it hot ultra rare original czech poster billy wilder marilyn monroe, billy wilder signed card film maker, billy wilder signed 3x5 index card autographed beckett bas cert , the billy wilder dvd collection stalag 17 special collectors edition sunset , marylin amp; billy wilder frank worth original bamp;w silver gelatin 16 x 20 , love in the afternoon dvd audrey hepburn gary cooper billy wilder director, jack lemmon amp; shirley maclaine in billy wilder the apartment theme sheet music, billy wilderirma la douge wobi jpn njl99509, the apartment movie posterjack lemmon poster shirley maclaine billy wilder, on sunset boulevard billy wilder ed sikov book 1st edition hollywood movies, the seven year itch bluray 2012 marilyn monroetom ewellbilly wilder new, marilyn monroe billy wilder actress film director movie unused stamp mali, sabrina centennial collection 2008 billy wilder; audrey hepburn by exlibrary, buddy buddy 24x36 poster billy wilder director jack lemmon walter matthau, sunset boulevard 1950 oscar winning screenplay billy wilder gloria swanson , the apartment 1960 oscar winning screenplay by billy wilder starring jack lemmon, lost weekend 1945 oscar winning screenplay billy wilder ray milland jane wyman, 1948 a foreign affair billy wilder movie al hirschfeld marlene dietrich ad
Other Films and Movie Memorabilia Visitors Were Searching For...
---
Billy WIlder was a Jewish Polish born American filmmaker, billy wilder was a jewish polish-born american filmmaker screen writer, director wilder of the golden age, hotmarlin munro, limited edt hardback book billywilders some like it hot,