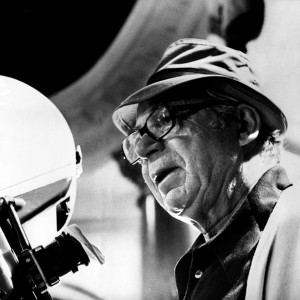 Billy Wilder
Billy Wilder was an Austrian-born American filmmaker, screenwriter, producer, artist and journalist, whose career spanned more than 50 years and 60 films. He is regarded as one of the most brilliant and versatile filmmakers of Hollywood's Golden Age and is one of only five people to have won Academy Awards as producer, director and screenwriter for the same film (The Apartment). Wilder was born to a Jewish family in Sucha Beskidzka, Austria-Hungary and became a screenwriter in the late 1920s while living in Berlin. After the rise of the Nazi Party, Wilder left for Paris, where he made his directorial debut. He moved to Hollywood in 1933, and in 1939 he had his first hit when he co-wrote the screenplay for the Greta Garbo screwball comedy Ninotchka. In 1944 Wilder finally established his directorial reputation with Double Indemnity (1944), a thrilling murder story he co-wrote with crime novelist Raymond Chandler. Double Indemnity became the quintessential film noir with despicable characters who nonchalantly strutted through the formula of a routine murder plot, using cold sex play and mannerisms while spurting out snappy dialogue with a tough cynical attitude. A year later Wilder finally earned the Best Director and Best Screenplay Academy Awards for the gritty alcoholic drama The Lost Weekend (1945). In 1950, Wilder co-wrote and directed Sunset Blvd, a bleak and cynical black comedy and arguably the greatest film ever made that explored the dark sides of Hollywood and stardom. One year after scandalizing Hollywood, Wilder examined the gritty world of shady journalism, corrupt politicians and the exploitation of the media with his most underrated noir Ace in the Hole (1951). Besides films like Stalag 17 (1953) or Witness for the Prosecution (1957), Wilder began to focus mostly on classic comedies and farces throughout the 50's and 60's, including The Seven Year Itch (1955), Some Like It Hot (1959), The Apartment (1960), Sabrina (1954) One Two Three (1961) and The Fortune Cookie (1966). Wilder holds a significant place in the history of Hollywood censorship for expanding the range of acceptable subject matter in American movies. Even today Wilder's films do not date or age, retaining the same fresh, timeless and cynical edge, never resorting to cheap sentimentality. Wilder was recognized for various different awards throughout the years including the (AFI) Life Achievement Award in 1986, the Irving G. Thalberg Memorial Award in 1988, and in 1993 he was awarded the National Medal of Arts. With eight nominations for Academy Award for Best Director, Wilder is, together with Martin Scorsese, the second most nominated director in the history of the Academy Awards, behind William Wyler, and the second most nominated screenwriter behind Woody Allen. When Wilder died in 2002 at the age of 95 a French newspaper Le Monde titled its first-page obituary, "Billy Wilder dies. Nobody's perfect", quoting the final gag line in his comedy Some Like It Hot.
---
---
Billy Wilder
Billy Wilder Featured Films

Availability of

Billy Wilder

movie memorabilia for sale changes daily.
The products and pricing shown below are current as of:

Wednesday, Nov 20, 2019
Billy Wilder
---
Products previously bought from this site:
---
ace in the hole billy wilder kirk douglas criterion dvd discs only, the billy wilder dvd collection dvd 2003 9disc set new, rare 16mm feature stalag 17 william holden billy wilder best print ever, witness for the prosecution billy wilder 1957 eureka moc bluray region b, director billy wilder autograph signed 5331, american film magazine 3 issues 19856 sean connery billy wilder william hurt, nobodys perfect billy wilder a personal biography chandler charlotte wilde, marilyn monroe actress with billy wilder in 1999 magazine print clipping, the seven year itch blu ray brand new still sealed marilyn monroe billy wilder , 1960 press photo film director billy wilder nox51068, billy wilder signature memorabilia colkectuble100 authentic , marilyn monroe card signed by billy wilder 100 authentic 8 by 5 12 inches, billy wilder signed picture authograph memorabilia 4 by 6 inches, fedora 1978 marthe keller billy wilder william holden exyu rare movie poster, one two three james cagney billy wilder spanish herald mini poster, ace in the hole criterion collection dvd 2007 kirk douglas billy wilder 1951, sabrina dvd bogart ahepburn bill holden nice classic billy wilder directs, billy wilder film collection dvd 2008 4disc set, billy wilders the seven year itch ws dvd marilyn monroe tom ewell, closeup on sunset boulevard billy wilder norma desmond by sam staggs mint, billy wilder ace in the hole bluraydvd new masters of cinema region b, billy wilder film collection 4 new dvd apartment fortune cookie christmas jr, witness for the prosecution bluray kino lorber billy wilder dietrich new, a4922 la vida privada de sherlock holmes billy wilder , photo kim novak amp; producer billy wilder in 1964, graebner chapter afdcs 4670 film director billy wilder marilyn monroe color cxl, vintage pianosolo sheet music theme from the apartmentbilly wilder1949, billy wilder moviemaker critical essays on films excellent condition, billy wilders the private life of sherlock holmes 1970 blu ray dvd , ninotchka dvd greta garbo billy wilder ernst lubitsch, double indemnity by billy wilder and raymond chandler 2000 paperback, 16mm feature film the big carnival aka ace in the hole 1951 billy wilder, billy wilder amp; conan doyle the private life of sherlock holmes b2 poster japan o, killers from space amp; the snow creaturemovies by wilderw lee not billy, charles laughton amp; elsa lanchester witness for the prosecution 1958 billy wilder, stalag 17 dvd 1999 sensormatic william holden directed by billy wilder , sunset boulevard billy wilder william holden gloria swanson erich von stroheim, the seven year itch marilyn monroe billy wilder diamond collection dvd extras, some like it hot marilyn monroe tony curtis jack lemmon billy wilder ual4030 59, sunset boulevard dvd 2002 collectors edition billy wilder gloria swanson 1950, painting billy wilder sea captain, american film magazine march 1986 featuring billy wilder, on sunset boulevard life and times of billy wilder by ed sikov hardcover vg, billy wilder collection volume 2 dvdregion 2, billy wilder collection volume 1 dvdregion 2, directed by billy wilder five graves to cairo a foreign affair 2disc dvd , photograph of billy wilder, vintage photograph of billy wilders picasso, on sunset boulevard the life and times of billy wilder sikov ed, stalag 17 new sealed dvd special collectors edition william holden billy wilder, great film directors billy wilder john huston forever usps stamp sheet 20 stamps, billy wilder signed autographed 3x5 card jsa certified, austria stamp 2003 sg 2666 billy wilder mint mnh, signed billy wilder some like it hot wall art featuring marilyn monroe, stalag 17 by billy wilder excellent condition, billy wilderthe complete films the cinema of wit 1906 2002 glenn hopp good, marilyn monroe some like it hot lobby card heavy paper vintage 1959 billy wilder, the major and the minor new sealed bluray 1942 billy wilder, marlene dietrich a foreign affair billy wilder 1948 best card in set, billy wilder interviews conversations with filmmakers excellent condition, wilder billyapartment uk import book new, the seven year itch 1955 classic dvd marilyn monroe billy wilder mint disc, 1948 a foreign affair billy wilder movie al hirschfeld marlene dietrich ad, sunset boulevard by billy wilder , 1978 marthe keller william holden photo fedora billy wilder film french print ad, the apartment and the fortune cookie by billy wilder hardcover 1971 , one two three 1961 six sheet billy wilder james cagney horst buchholz saul bass, tom jones irma la douce scarce 1965 1sheet dbl feat theatre poster billy wilder, billy wilder 6 dvd lot set collection plus frank capra classic, 6 cachets 4670 johnny lee director billy wilder spirit of st louis lindbergh , the seven year itch original 1955 photo billy wilder tom ewell marilyn monroe, billy wilder film festival berlin poster from the wilder estate rare collectible, some like it hot marilyn monroe billy wilder lemmon curtis 1959 halfsheet a, billy wilder american film realist by armstrong richard , conan doyle billy wilder french pressbook private life of sherlock holmes, a billy wilder film the seven year itch original soundtrack lp marilyn monroe le, private lives of sherlock holmes 1970 16mm film christopher lee billy wilder, sight amp; sound vol322 spring 1963 uk after bergman billy wilder, the private life of sherlock holmes like new dvd 2003 billy wilder movie, the apartment new dvd billy wilder jack lemmon fred macmurray shirley maclaine, james stewart the spirit of st louis billy wilder the lindbergh flight, billy wilder audrey hepburn gary cooper love in the afternoon 3 read, billy wilder witness for the prosecution charles laughton marlene dietrich, apartment movie poster fine insert 1960 billy wilder paperbacked 01, marilyn monroe collection new bluray 4disc vintage set billy wilder, marilyn monroe collection new pal classic 4dvd vintage set billy wilder, 1964 press photo director billy wilder lrx52214, the front page dvd 1998 billy wilder jack lemmon walter matthau, sherlock holmes movie poster spanish billy wilder the secret life of, conversaciones con billy wilder conversations with wilder spanish exlib, new sealed billy wilders the private life of sherlock holmes bluray disc 2014, fedora laserdisc ld william holden marthe keller billy wilder free ship $30 orde, double indemnity laserdisc ld billy wilder fred macmurray free ship $30 orders, billy wilder , billy wilder the seven year itch marilyn monroe 1966 rr german 1sheet fantastic , vintage photograph of billy wilder
Other Films and Movie Memorabilia Visitors Were Searching For...
---
Billy WIlder was a Jewish Polish born American filmmaker, billy wilder was a jewish polish-born american filmmaker screen writer, director wilder of the golden age, hotmarlin munro, limited edt hardback book billywilders some like it hot,