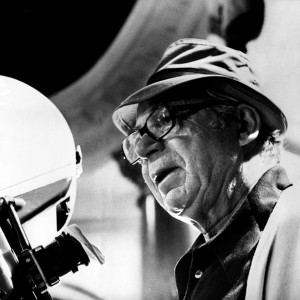 Billy Wilder
Billy Wilder was an Austrian-born American filmmaker, screenwriter, producer, artist and journalist, whose career spanned more than 50 years and 60 films. He is regarded as one of the most brilliant and versatile filmmakers of Hollywood's Golden Age and is one of only five people to have won Academy Awards as producer, director and screenwriter for the same film (The Apartment). Wilder was born to a Jewish family in Sucha Beskidzka, Austria-Hungary and became a screenwriter in the late 1920s while living in Berlin. After the rise of the Nazi Party, Wilder left for Paris, where he made his directorial debut. He moved to Hollywood in 1933, and in 1939 he had his first hit when he co-wrote the screenplay for the Greta Garbo screwball comedy Ninotchka. In 1944 Wilder finally established his directorial reputation with Double Indemnity (1944), a thrilling murder story he co-wrote with crime novelist Raymond Chandler. Double Indemnity became the quintessential film noir with despicable characters who nonchalantly strutted through the formula of a routine murder plot, using cold sex play and mannerisms while spurting out snappy dialogue with a tough cynical attitude. A year later Wilder finally earned the Best Director and Best Screenplay Academy Awards for the gritty alcoholic drama The Lost Weekend (1945). In 1950, Wilder co-wrote and directed Sunset Blvd, a bleak and cynical black comedy and arguably the greatest film ever made that explored the dark sides of Hollywood and stardom. One year after scandalizing Hollywood, Wilder examined the gritty world of shady journalism, corrupt politicians and the exploitation of the media with his most underrated noir Ace in the Hole (1951). Besides films like Stalag 17 (1953) or Witness for the Prosecution (1957), Wilder began to focus mostly on classic comedies and farces throughout the 50's and 60's, including The Seven Year Itch (1955), Some Like It Hot (1959), The Apartment (1960), Sabrina (1954) One Two Three (1961) and The Fortune Cookie (1966). Wilder holds a significant place in the history of Hollywood censorship for expanding the range of acceptable subject matter in American movies. Even today Wilder's films do not date or age, retaining the same fresh, timeless and cynical edge, never resorting to cheap sentimentality. Wilder was recognized for various different awards throughout the years including the (AFI) Life Achievement Award in 1986, the Irving G. Thalberg Memorial Award in 1988, and in 1993 he was awarded the National Medal of Arts. With eight nominations for Academy Award for Best Director, Wilder is, together with Martin Scorsese, the second most nominated director in the history of the Academy Awards, behind William Wyler, and the second most nominated screenwriter behind Woody Allen. When Wilder died in 2002 at the age of 95 a French newspaper Le Monde titled its first-page obituary, "Billy Wilder dies. Nobody's perfect", quoting the final gag line in his comedy Some Like It Hot.
---
---
Billy Wilder
Billy Wilder Featured Films

Availability of

Billy Wilder

movie memorabilia for sale changes daily.
The products and pricing shown below are current as of:

Thursday, Jun 21, 2018
Billy Wilder
---
Products previously bought from this site:
---
five graves to cairo 1943 1947 movie ad leaflet brochure billy wilder, billy wilder signed autographed 3x5 card jsa certified director writer producer, billy wilder arrives at a premiere vintage photo, charles laughton marlene dietrich tyrone power billy wilder vintage photo, five graves to cairo dvd directed by billy wilder anne baxter free shipping, the apartment by billy wilder; i a l diamond, fedorahenry fonda michael york marthe keller william holdendirbilly wilder, ltd edition frank worth fine art print marilyn monroe and billy wilder wcoa, 1961 press photo actress gina lollobrigida poses with director billy wilder, signed billy wilder 8x10 photo vintage rare nice uacc registered dealer, billy wilder american film realist by richard armstrong hardcover mint, new masters of cinema billy wilder by simsolo noel, marilyn monroe seven year itch german billy wilder comedy long sleeve tshi, marilyn monroe seven year itch german billy wilder movie dolman sleeve
Other Films and Movie Memorabilia Visitors Were Searching For...
---
Billy WIlder was a Jewish Polish born American filmmaker, billy wilder was a jewish polish-born american filmmaker screen writer, director wilder of the golden age, hotmarlin munro, limited edt hardback book billywilders some like it hot,