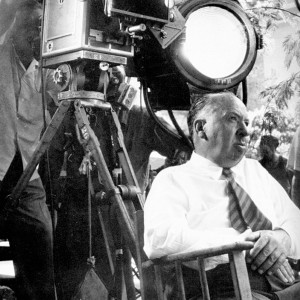 Alfred Hitchcock
Alfred Hitchcock was an English film director and producer who became known as the 'Master of Suspense' and one of the most important pioneers in the film industry. He was discovered extremely early on in his hometown in Europe becoming very successful in silent and early talkies and for establishing the suspense and psychological thriller genres. Even before making his drastic move to Hollywood in 1939 and becoming a US citizen in 1955 he was already looked at as one of England's greatest directors after making such British classics like The 39 Steps (1935) and The Lady Vanishes (1938). When arriving to the United States he joined with American producer David O. Selznick and made his first financial success with Rebecca (1940),which took the Academy Award for Best Picture. As great of an achievement as Rebecca was Hitchcock never viewed the film as his own personal creation probably because most of the creative decisions during filmmaking was controlled by Selznick and of the studio. After the early success of Rebecca Hitchcock began to break away from Selznick's control and was ultimately given the freedom and reign to finally make films the way he wanted to. His later successes throughout the 40's, 50's and 60's ranged from such cinematic classics as Shadow of a Doubt, (1943), Notorious (1946), Rope (1948), Strangers on a Train (1951), Rear Window (1954), Dial M for Murder (1954), Vertigo (1958), North by Northwest (1959), Psycho (1960) and The Birds (1963). During a career which spanned more than half a century, Hitchcock created for himself a distinctive and recognizable style that has influenced many future filmmakers. First, he pioneered the use of a camera which would move in a way that would mimics a person's gaze, which would resemble a disturbing form of voyeurism. He framed and distorted specific shots to heighten anxiety, fear, or empathy with its audience, while also adding a light touch of dark humor within the context of the story. The themes he used throughout his stories have also become a form of auteur. For instance, most of his stories feature innocent fugitives who are on the run from the law, twist endings and beautiful mysterious blonds. He loved to explore themes of violence, murder, crime and obsession, all with disturbing sexual undertones. Hitchcock created the famous term 'MacGuffin' which would serve as the film's main plot driven theme but wouldn't necessarily have anything to do with what happens to the characters or the outcomes within the stories. Through all his numerous cameo appearances in his own films, fascinating interviews which presented his sly and macabre sense of  humor, his alleged reference that all actors were merely cattle, inventive film trailers, and the highly popular television program Alfred Hitchcock Presents, Alfred Hitchcock became a cultural worldwide icon. Ironically Hitchcock has never won an Academy Award for Best Director, even though many today regard him as one of the greatest and most influential film directors who has ever lived.
---
---
Alfred Hitchcock
Alfred Hitchcock Featured Films

Availability of

Alfred Hitchcock

movie memorabilia for sale changes daily.
The products and pricing shown below are current as of:

Friday, Mar 22, 2019
Alfred Hitchcock
---
Products previously bought from this site:
---
blackmail vhs alfred hitchcock horror thriller clamshell mystery, the trouble with harry vhs new sealed alfred hitchcock, barbra streisand nick nolte antonio banderas alfred hitchcock thai magazine 1992, alfred hitchcock collection 6 films 3dvd set 2000 new unopened, alfred hitchcock collection dvd 2005 5disc set new unopened, vhs alfred hitchcocks under capricorningrid bergmanjoseph cotten, vhs i confess anne baxter montgomery cliff alfred hitchcock sealed, vhs alfred hitchcocks bon voyage amp; aventure malgache 1993 new, alfred hitchcock the collection the 39 steps jamaica inn young and innocen, alfred hitchcock 10 dvd collectors edition box set 12 movies, alfred hitchcock presents slay ride paperback dell 1977, alfred hitchcock death on arrival dell 1979, alfred hitchcock s paradine case gregory peck ann todd movie poster, alfred hitchcock joel mccrea foreign correspondentsigned pic, rebecca dvd 2008 alfred hitchcock, psycho 1960 bluray 2016 universal pop art edition alfred hitchcock, mystery of talking skull by robert arthur, alfred hitchcocks psycho bluray disc 2014 limited edition steelbook new, alfred hitchcock the essentials collection bluray disc 2013 5disc set, alfred hitchcock the legend begins dvd 2007 4disc set, who was alfred hitchcock prebind by pollack pamela; belviso meg; moore j, 1945 movie ad alfred hitchcocks spellbound ingrid bergman gregory peck, alfred hitchcock special edition dvd jamacia inn, sabotage sylvia sidney oscar homolka desmond tester alfred hitchcock r2 dvd, the man who knew too much leslie banks edna best alfred hitchcock r2 dvd, the lady vanishes margaret lockwood michael redgrave alfred hitchcock r2 dvd, topaz frederick stafford dany robin john vernon alfred hitchcock r2 dvd, saboteur priscilla lane robert cummings norman lloyd alfred hitchcock r2 dvd, the mystery of the headless horse exlib by alfred hitchcock, alfred hitchcocks fatal attractions nodust by alfred hitchcock, alfred hitchcock the essentials collection limited edition new dvd , alfred hitchcock the legend begins , alfred hitchcock the classic collection notorious rebecca spellbound , w903 sierra leone mnh famous people alfred hitchcock , alfred hitchcock collectors edition thirtynine steps the lady vanishes , alfred hitchcockmasterpiece collection dvd 15discs, secret of phantom lake alfred hitchcock and three investigators excellent, alfred hitchcock classics v1 alfred hitchcock dvd, alfred hitchcock presentsseason two, alfred hitchcock the essentials collection dvd 2011 5disc set brand new, the birds alfred hitchcock 1963 replica movie poster 11x17 in plastic slip, 1945 ww2 era classic movie ad spellbound ingrid bergman alfred hitchcock 010416, emile boreo margaret lockwood in the lady vanishes 53 alfred hitchcock, who was alfred hitchcock hardback or cased book, charles coburn alida valli in the paradine case 48 alfred hitchcock, spellbound by beauty alfred hitchcock and his leading ladies by donald spoto, who was alfred hitchcock new, dvd alfred hitchcocks the wrong man widescreen henry fonda vera miles quayle , dvd alfred hitchcock dial m for murder ray milland grace kelly robert cummings , alfred hitchcocks the birds amp; the birds 2 lands end vhs birds 2 screening copy, books alfred hitchcocks mystery magazine numberous authors, alfred hitchcock signed autograph drawing vintage rare birds psycho vertigo, alfred hitchcock new, alfred hitchcock spellbound original photograph of ingrid bergman 1945 105184, mystery of vanishing treasure alfred hitchcock and three excellent condition, alfred hitchcock the birds barbie black label, alfred hitchcock collection dvd 2005 5disc set brand new factory sealed , violence in the films of alfred hitchcock a study in mimesis studies in new, psycho bluray 1960 alfred hitchcock anthony perkins, alfred hitchcocks hitchcocks mystery magazine july 1982 book vol 27 27, alfred hitchcocks moviemaking master class learning about film by tony lee, lot of 2 alfred hitchcock 3 investigators books green ghost whispering mummy, alfred hitchcock and the making of psycho new, 4 alfred hitchcock books daring detectives monster museum ghostly , mont blanc ballpoint pen alfred hitchcock limited authentic unused item box fine, director funko pop vinyl 624 alfred hitchcock, alfred hitchcock criterion wrong men notorious women 7 thrillers lot 12 dvd, alfred hitchcocks saboteur 1942 wslipcase robert cummings otto kruger sealed, the san francisco of alfred hitchcocks vertigo place pilgrimage and c new, alfred hitchcock in his own words in their own words new, psycho 1st crest pbk ed 1960 robert bloch alfred hitchcock movie adaption, alfred hitchcock hour soundtrack cd 2 disc like new bernard herrmann oop, alfred hitchcock and the three investigators in the mystery of the fiery eye, alfred hitchcock and the three investigators in the mystery of terror castle, alfred hitchcock presents a month of mystery hardcover 1969 w dust jacket, original 1949 autographed farley granger photoalfred hitchcock movies, marnie vhs alfred hitchcock , 1959 tv guide alfred hitchcock tony randall ginger rogers tv cowboys, 1976 rolling stone magazine 218 jack ford alfred hitchcock dion loggins messina, alfred hitchcock collection dvd, the paradine case vhs video alfred hitchcock , films of alfred hitchcock by george perry 1965 paperback 1st edition very good, i confess vhs video alfred hitchcock montgomery clift anne baxter, beautiful grace kelly rear window japanese movie poster alfred hitchcock unused, saboteur 1942 alfred hitchcock priscilla lane near mint unused stone litho, alfred hitchcocks north by northwest on dvd, alfred hitchcock vertigo collectors edition dvd , cary grant ingrid bergman notorious alfred hitchcock dvd , alfred hitchcock psycho collectors edition dvd , 1972 seattle tv prevues guideoscarsalfred hitchcock5th dimension, first day of issue alfred hitchcock early tv memories, hitchcocks stars alfred hitchcock and hollywood studio system by lesley l vg, timeless video vhs the manxman 1929 alfred hitchcock drama thriller romance cult, brand new alfred hitchcock classic collection blu ray oop set notorious spellbou, the art of alfred hitchcock fifty years of his motion pictures new, laserdisc 1 saboteur robert cummings priscailla lane alfred hitchcock, alfred hitchcock hollywood classics 3 dvd set , alfred hitchcock lot presents stories for late at night slay ride witches brew
Other Films and Movie Memorabilia Visitors Were Searching For...
---
alfred hitchcock vhs movies value, what are the best alfred hitchcock movies,